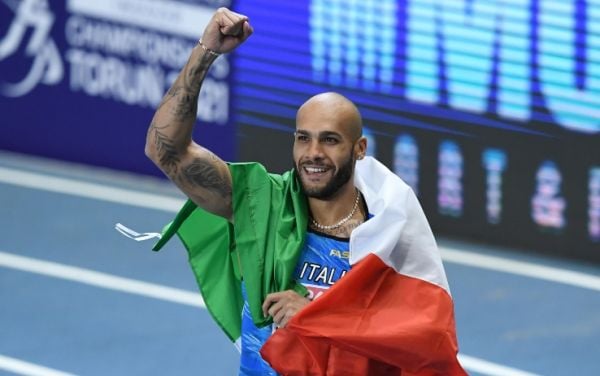 Italy's Marcell Jacobs blasted to a world seasonal best of 6.47 ahead of German record holder Kevin Kranz (6.60) and defending champion Jan Volko from Slovakia (6.61). Jacobs ran faster than US Trayvon Bromell, who held the previous world seasonal best of 6.48 last January. Jacobs clocked the second fastest winning time in European Indoor Championships history behind Dwain Chambers' 6.46 in Turin 2009. Jacobs moves to fourth on the European all-time list. His winning margin of 0.13 is the biggest ever in the 60m in the history of these championships.
The Texas-born Italian sprinter improved the previous Italian record held by Michael Tumi with 6.51 since 2013.
Jacobs was born in El Paso (Texas), but he grew up in Desenzano del Garda (Italy). He is coached by Paolo Camossi, who won the world indoor gold medal in the triple jump in Lisbon 2001. He started the indoor season with a PB of 6.63 and improved it by 0.16. In the build-up to the European Indoor Championships Jacobs finished second in Berlin in 6.55 and in Lodz in 6.53 and won in Liévin in 6.54. Jacobs became the first Italian sprinter to win the European Indoor gold medal in the 60 metres since Stefano Tilli in Budapest 1983.
Jacobs showed his impressive form winning the heat in 6.59 and the semifinal in 6.56 with the greatest ease.
Marcell Jacobs: "It's amazing. A dream come true. In training, I was very fast, but I was not expecting to run 6.47. I am just in shock. At the start of my athletics career, I suffered from a lot of injuries and I was not able to continue with the long jump, which was my first love. I did not even reach the long jump final in my previous appearances at the European Championships. I remembered that I cried with my coach after three fouls in the qualifying round in Glasgow. I am now celebrating the gold medal in the 60 metres. This means a lot. I am super happy. I am now going to work hard for the summer season but the work I have done for my 60 is also good for the 100m and the relay".
Final women's long jump:
Ukraine's Maryna Beck Romanchuck clinched the gold medal with a world seasonal best of 6.92m in the sixth attempt overtaking world outdoor champion Malaika Mihambo, who was leading with a seasonal best of 6.88m in the third round. Khaddi Sagnia won the bronze medal with 6.75m in the third round ahead of Nastassia Mironchyk Ivanova (6.72m). European Under 20 champion Larissa Iapichino finished fifth with 6.59m in her first European Indoor final at the age of 18.
After two fouls in the first two attempts, Beck Romanchuk went into the lead with 6.80m in the third round. Mihambo overtook Beck Romanchuk with a seasonal best of 6.88m in the third attempt and held on to the lead. Beck came close to Mihambo with 6.86m in the fifth round. The long jump final went down to the wire when the Ukrainian jumper improved Iapichino's world seasonal best by 0.01 with 6.92m to take the lead in the sixth round. Mihambo jumped 6.78m, taking off 29 centimetres behind the board.
Final women's 400 metres:
Dutch 21-year-old star Femke Bol cruised to her first European Indoor gold medal in the 400 metres improving the national indoor record for the fifth time this season and her European leading time by 0.01 with 50.63. Bol set the third fastest winning time ever in the history of the European Indoor Championships.
Bol passed her compatriot Lieke Klaver down the backstraight on the final lap before holding off the challenge of Swyety Ersetic.
Swyety Ersetic won the silver medal with 51.41 ahead of Jodie Williams, who improved her PB to 51.73 to take the bronze. Ireland's Phil Healy finished fourth setting a PB of 51.94.
Femke Bol: "I was thinking: "please, please, nobody come". I was tired. This win gives me a lot of confidence for the hurdles outdoors. It's crazy. So much has changed in the last one and a half years since I was the European junior champion".
Final men's 400 metres:
Spanish indoor record holder Oscar Husillos took the win in a close men's final setting his seasonal best of 46.22 two years after claiming the silver medal in Glasgow 2019. Three years ago Husillos was disqualified for a lane infringement after crossing the finish-line in a European record of 44.92 at the World Indoor Championships in Birmingham.
Husillos held off a strong Dutch trio. Tony Van Diepen finished second 0.03 behind the winner. Liemarvin Bonevacia took the bronze medal in 46.30.
Oscar Husillos: "First of all, I need to thank my coach, my team, my physio. They all trusted in me and I was thinking about them while I was crossing the finish line. It reminds me of the world indoors when I lost the medal but I came here today and won. I suffered a lot but it paid off".
Women's pole vault:
Angelica Moser from Switzerland improved her PB to 4.75m in her second attempt to win the women's pole vault. Tina Sutej finished second equalling her seasonal best with 4.70m. Pre-event favourite Holly Bradshaw from Great Britain and World Indoor Tour winner Iryna Zhuk from Belarus shared third place with 4.65m.
Six women remained in contention at 4.70m. Sutej cleared 4.70m to take the lead. Zhuk and Bradshaw failed three attempts at this height. Moser cleared 4.70m on her first attempt to improve her PB.
Moser vaulted 4.75m on her second attempt improving her indoor PB by nine cm. Sutej failed two attempts at 4.75m and ended the competition with a miss at 4.80m.
Women's 1500 metres:
Belgium won the second gold medal at these Championships with Else Vanderelst, who claimed the win in 4:18.44 ahead of Germany's Hanna Klein (4:20.07) and Marta Perez (4:20.39) in a very tactical race. Vanderelst went to the front with 100m to go and held on to win he first major international title. Archer was initially disqualified but reinstated after an appeal.
Men's eptathlon:
World decathlon record holder Kevin Mayer leads overnight in the men's heptathlon with a total of 3571 points after four events by 33 points from 21-year-old Swiss combined events specialist Simon Ehammer.
Reigning European Under 20 decathlon champion Simon Ehammer from Switzerland led the overall standing in the men's eptathlon ahead of Kevin Mayer after three events.
Ehammer got off to a good start with his indoor PB to 6.75 in the 60 metres, as world decathlon record holder Kevin Mayer clocked 6.86. Italian indoor champion and record holder Dario Dester smashed his indoor PB by 0.06 to 6.97.
Ehammer extended his lead in the long jump setting his indoor PB with 7.89m, while Mayer produced a best jump of 7.47m. Dester narrowly missed his PB with 7.61m to take the third place in the overall standing with 1855 points. Ehammer led over Mayer by 49 points after two events.
Mayer set his indoor PB in the shot put with 16.32m. Ehammer consolidated his leading position in the overall standing with 2780 points after a shot put effort of 14.75m. Dester improved his second PB of the day with 14.25m to defend his third place with 2599 points ahead of Poland's Pawel Wiesolek (2594).
Mayer moved into the overall lead with a tally of 3571 points after clearing 2.04m, equalling the day-one score he achieved when he won the European Indoor gold setting the European record with 6479 points in Belgrade 2017. Ehammer cleared 1.95m in the high jump to stay in contention for a medal, trailing Mayer by just 33 points. Dester cleared 1.95m to end the first day in seventh place Defending champion Jorge Urena from Spain cleared 2.10m to move up into third place with 3424 ahead of Andreas Bechmann (3419), Pawel Wiesolek (3407), Rik Taam (3387) and Dario Dester (3357) in a wide open competition.
Kevin Mayer: "I feel good. I just decided not to continue the high jump competition to make sure I do not get into complications and spare energy. I feel confident and I am feeling forward to tomorrow".
Women's 60 metres hurdles heats:
Reigning European Indoor champion Nadine Visser led the qualifiers in the women's 60m hurdles with 7.92 edging Cindy Sember from Great Britain, who clocked her fastest time with 7.99. Five women broke the eight seconds barrier. Polish hurdler Pia Skryszowska claimed the win in the third heat improving her PB to 7.96. Polish champion Karolina Koleczek missed her PB by 0.02 with 7.98. Three-time Italian 100m hurdles outdoor champion Luminosa Bogliolo won the fourth heat with 8.01 beating Finnish record holder Nooralotta Neziri by 0.02.
Men's 60 metres hurdles heats:
Reigning world indoor champion Andy Pozzi and Wilhem Belocian clocked the fastest time in the heats with 7.52. Damian Czykier from Poland and 2013 European Indoor silver medallist Paolo Dal Molin from Italy also showed their impressive form winning their respective heats in 7.57 and 7.59.
Andy Pozzi: "The competitors are really fast but I will try to go for a gold. I trained in Formia (italy), so it's been easier for me than for other British athletes".
Women's triple jump qualifying round:
Former European outdoor champion Patricia Mamona from Portugal produced the best qualifying mark with her seasonal best of 14.43m. Paraskevi Papahristou from Greece easily qualified with 14.39m.
Men's pole vault qualifying round:
World record holder Armand Duplantis easily qualified for the men's pole vault final by clearing 5.60m in his first attempt. Former Olympic champion and four-time European indoor champion Renaud Lavillenie pulled out of the qualifying round on the eve of the championships due to a calf injury.
Armand Duplantis: "It's been a long time since we had a championship. It feels good to be back in that championship feeling".
Renaud Lavillenie: "During the last training session I felt pain on my calf. I don't want to take any risk. It was a difficult but wise decision".
Men's 3000 metres heats: Andy Butchart from Great Britain ran the second fastest heat time in European Indoor Championships history in the men's 3000 metres with 7:46.46. Jakob Ingebrigtsen easily qualified with his third place in the second heat with his indoor PB of 7:49.52 behind European 5000m and 10000m under 23 champion Jimmy Gressier from France, who crossed the finish-line with 7:48.93. Mike Foppen from the Netherlands clocked 7:49.99 became the first athlete ever to break 7:50 and not qualify.
Jakob Ingebrigtsen: "It was a long night. I am really happy with how it turned out and I am hungry for more, although the 1500m was my main goal".
Marcin Lewandowski chose not to run the 3000m heats after finishing second to Ingebrigtsen in the 1500m final the night before.
See the results, live stream, start lists, and schedule.
-->