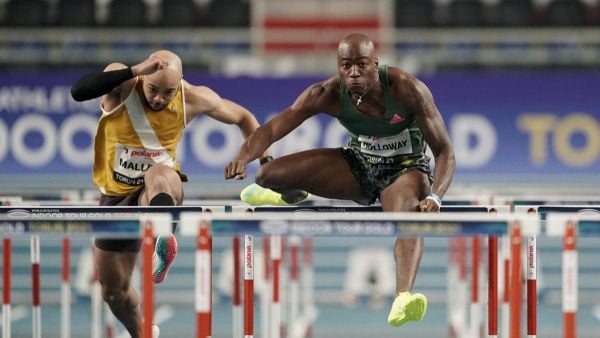 Grant Holloway will be in the spotlight in the men's 60 metres hurdles at the Villa de Madrid, the final leg of the 2021 World Athletics Indoor Tour Gold on Wednesday, February 24.
Holloway missed Colin Jackson's world indoor record by just 0.02 in Liévin with a North-American record of 7.32 and could threaten the meeting record held by Tony Dees since 2000 with 7.40. The world 110m outdoor champion clocked three of the six fastest 60m hurdles times in history and clocked 7.38 or faster seven times.
"Two milliseconds to get to 7.30; it's definitely possible," Holloway said in a pre-meet press conference on Tuesday.
After Liévin he continued his European campaign with wins in Val de Reuil in 7.41 and Torun in 7.38 extending his streak to 52 consecutive indoor 60m hurdles wins since 2014, when he was a 16-year-old high school student.
Holloway will face world indoor champion Andy Pozzi, who won in Madrid last year in 7.48. The British hurdler started his season with 7.57 in Luxemburg earlier this month. The line-up also features Paolo Dal Molin from Italy, who finished third in Liévin in 7.55.
Women's 3000 metres: Tsegay takes on Hailu
Fresh world indoor 1500 record holder Gudaf Tsegay will take on Lemlem Hailu in an all-Ethiopian 3000m race. Tsegay broke Genzebe Dibaba's 1500m world record with 3:53.09 in Liévin and went on to set a national 800m indoor record with 1:57.52 in Val de Reuil a few days later.
Hailu clinched back-to-back wins in the 3000m races in Liévin in 8:32.55 and Torun in 8:31.24. Last year she set the world 1500m under 18 record in Liévin with 4:01.57. A win in Madrid would secure Hailu the first place in the World Indoor Tour standings.
In last year's edition of the Villa de Madrid meeting, Tsegay beat Hailu in the 1500m race in 4:04.66.
Men's 1500m: Barega-Wale re-match
World 5000 silver medallist Selemon Barega from Ethiopia will clash against his compatriot Getnet Wale for the second time this year. Wale, who won the 3000m steeplechase Diamond League title in Zurich in 2019, set the second fastest time in history in the 3000m with 7:24.98 in Liévin beating Barega, who also ran faster than Haile Gebrselassie's previous Ethiopian indoor record with 7:26.10.
One week ago Barega improved his PB in the 1500m in Torun with 3:32.97 moving up to eighth in the world all-time list. The Ethiopian 21-year-old runner leads the current World Indoor Tour standings in this discipline.
Women's 800m: Alemu chases her fourth consecutive win
Ethiopia's Habitam Alemu will be chasing her fourth consecutive win this winter after clocking 2:00.85 in Metz, 2:00.86 in Liévin and 1:58.19 in Torun. Alemu, who has already secured the win in the World Indoor Tour standings, will clash against Nadia Power from Ireland, who finished third in 2:00.98 in Torun.
Men's long jump: Echevarria attacks Pedroso's meeting record
Juan Miguel Echevarria will bid to win in Madrid for the second consecutive year. Last year the 22-year-old Cuban jumper leapt to 8.41m narrowly missing the meeting record set by his compatriot Ivan Pedroso with 8.43m in 1996. Echevarria won the world indoor record gold medal with his lifetime best of 8.46m in Birmingham 2018. Echevarria will face 2013 European under 23 champion Eusebio Caceres from Spain.
Women's 60 metres hurdles: European Indoor Championships preview with Visser, Neziri and Herman
Reigning European Indoor champion Nadine Visser from the Netherlands will clash against Nooralotta Neziri from Finland and European outdoor gold medallist Elvira Herman from Belarus in a preview of the European Indoor Championships in Torun.
Neziri won the first leg of the World Indoor Tour in Karlsruhe in 7.92 beating Visser. The Dutch hurdler clocked 7.90 twice this season in Berlin and at the national Championships last weekend and edged Neziri in Liévin in 7.91. Herman set her seasonal best of 7.91 last weekend. The 60m hurdles is not a Tour-scoring event.
Men's 60 metres: Cissé starts as the favourite
Ivory Coast's Arthur Cissé starts as the favourite in the men's 60 metres after winning two races this season in Dusseldorf in 6.54 and Berlin in 6.53. Cissé will take on Dutchman Joris Van Gool, who set the national record with 6.58 this year, and French sprinters Amaury Golitin and Mouhmadou Fall, who both clocked 6.62 this winner.
Men's 400m: Husillos clashes against Maslak and Richard
Oscar Husillos from Spain set his national 400m record in Madrid with 45.86 in 2018 and improved it when he won the European Indoor silver medal in Glasgow with 45.66. The Spanish 400m sprinter, who won the national indoor title on the track of the Centro Deportivo Municipal de Gallur last weekend, will clash against three-time world indoor champion Pavel Maslak from Czech Republic and 2018 NCAA Indoor champion Tyrell Richard, who finished third in New York World Indoor Tour meeting. The line-up also features Italy's Edoardo Scotti, who won the 400m at the Golden Gala in Rome with his outdoor PB of 45.21 last September.
Women's triple jump: Povea against Peleteiro
Liadagmis Povea will chase her second World Indoor Tour win this year after jumping 14.54m in Karlsruhe. The Cuban jumper will face European Indoor champion Ana Peleteiro, who won the Spanish indoor title with 14.21m in Madrid last weekend, and 2017 European Under 20 gold medallist Viyaleta Skvartsova, who finished second with 14.39m in Torun.
Women's pole vault: Sutej vs Newell
Slovenia's Tina Sutej will face Canada's Anicka Newell in a wide open pole vault competition. Both vaulters set their seasonal best performances with 4.70m this year. Sutej recently won two World Indoor Tour events in Ostrava with 4.70m and Gent with 4.53m.
Men's 800m: Tuka the stand-out name
World outdoor silver medallist Amel Tuka from Bosnia and Herzegovina will run his third 800m race this winter one week after clocking his seasonal best of 1:46.35 in Torun. Tuka won the 800m in the outdoor meeting in Madrid in 1:43.94 in 2015.
Eight World Indoor Tour titles will be decided in the four men's disciplines (60m hurdles, 400m, 1500m and long jump) and four women's events (800m, 3000m, pole vault and triple jump).
Live stream and TV coverage
The Villa de Madrid indoor meet will be streamed and broadcast in more than 160m countries around the World. For more details see the live stream page here.
-->