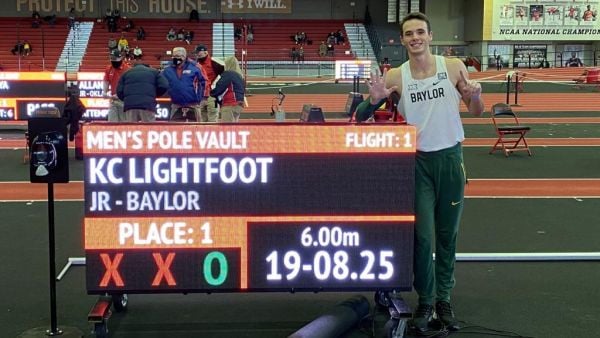 KC Lightfoot, a junior from Baylor, cleared a huge 6.00m to break his own NCAA pole vault record on Saturday at Texas Tech Shootout indoor meet.
He broke his NCAA record and personal best by 5cm. He also became only the 13th pole vaulter in history indoors to clear 6.00m.
See the full Texas Tech Shootout results here.
At the Tyson Invitational in Fayetteville, Arkansas Texas Tech women's team set the 9th fastest 4x400m time in history indoors with an amazing 3:26.27.
Also at Tyson Invitational, Isaac Grimes of Florida State set a new World lead with a huge personal best jump of 8.33m (27-4). JuVaughn Harrison of LSU set a new season's best mark with a 8.09m (26-6½) leap.
See the full Tyson Invitational results here.
-->