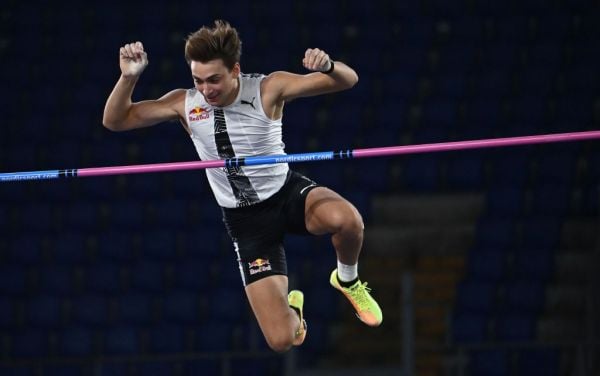 Five members of the exclusive 6 metres club will be in the spotlight at the meeting Hauts de France Pas de Calais at the Stade Couvert in Liévin, which hosts the second leg of the World Athletics Indoor Tour Gold.
Armand "Mondo" Duplantis will be looking to win his 19th pole vault competition and his third contest of the 2021 season after clearing 6.01m in Dusseldorf and a world seasonal best of 6.03m in Rouen last weekend. The 21-year-old Swedish star returns to Liévin where he won last year's edition with 6.07m.
Duplantis will clash against his French friend and rival Renaud Lavillenie, who won the first leg of the World Indoor Tour in Karlsruhe with 5.95m two days before clearing 6.02m in Tourcoing (his first 6m jump since March 2016). The 2012 Olympic champion finished second to Duplantis in Rouen with 5.93m last Saturday.
Kendricks, who set his indoor PB with 6.01m in Rouen on French soil last year, was the last vaulter to beat Duplantis in the final of the World Championships in Doha with 5.97m. Duplantis and Kendricks cleared 6.07m and 6.02m in a fantastic pole vault competition in Lausanne city centre last September. This year Kendricks cleared 5.81m in Dusseldorf and 5.83m in Rouen.
Lisek joined the 6m club in 2019 with 6.01m in Lausanne and 6.02m in Monaco and won the world bronze medal in Doha. Thiago Braz Da Silva from Brazil won the Olympic gold medal setting the South American record with 6.03m in front of his fans.
Sergey Bubka set one of his 35 world records in Liévin in February 1993 with 6.13m.
Men's triple jump: Zango chases his third consecutive win Liévin
World outdoor triple jump bronze medal Fabrice Hugues Zango will chase his third consecutive win in Liévin after finishing first in 2019 with 17.09m and in 2020 with 17.51. The burkinabé recently leapt to 18.07m in Aubière breaking the world indoor record held by his coach Teddy Tamgo. Zango lives and studies engineering at the University d'Artois in Lille and trains in Liévin.
Zango will face 2019 US outdoor champion Donald Scott and 2009 world outdoor bronze medallist Alexis Copello from Azerbaijan.
Men's 60m hurdles: Holloway runs his first European indoor race
World 110m hurdles champion Grant Holloway will run the first European Indoor race of his career. The US hurdler opened his 2021 season by equalling his North-American record and the third fastest time in history with 7.35 in Fayetteville.
Holloway will take on Olympic and European silver medallist Orlando Ortega, 2016 European outdoor bronze medallist Wilhelm Belocian, who won in Karlsruhe in 7.49 and clocked 7.45 in Metz, 2018 world indoor bronze medallist Aurel Manga and world decathlon record holder Kevin Mayer.
Women's 60m hurdles: Clemons takes on Visser, Neziri and Amusan
World indoor silver medallist Christina Clemons will clash against European indoor champion Nadine Visser from the Netherlands, Finland's Nooralotta Neziri (winner in Karlsruhe with a national record of 7.92), 2018 Commonwealth Games gold medallist Tobi Amusan from Nigeria, two-time European Indoor champion Alina Talay from Belarus and World University gold medallist Luminosa Bogliolo from Italy. Clemons set the fastest time in the world this year in the 60m hurdles with 7.83 in Berlin beating Visser by 0.07. The Dutch hurdler finished third in Karlsruhe in 7.96 and won in Dusseldorf in 8.00. Amusan finished runner-up in Karlsruhe in 7.94 and won in Metz in 8.00.
Men's 60 metres: Cissé clashes against Jacobs, Rodgers and Quinn
National record holder Arthur Cissé from Ivory Coast will be chasing his third 60m win this season after finishing first in the two ISTAF meetings in Dusseldorf (6.54) and Berlin, where he equalled the national record with 6.53. The Olympic 100m finalist will renew his clash against three-time Italian champion Marcell Lamont Jacobs, who finished second in Berlin becoming the second fastest Italian 60m sprinter with 6.55. The best US sprinters in the line-up are 4x100 relay world champion Mike Rodgers, who clocked 6.59 in Metz, and Devin Quinn, who won in Metz last Saturday setting his PB with 6.54.
Women's 60 metres: Oliver-Del Ponte re-match
US Javianne Oliver will be in the spotlight in the women's 60 metres sprint race after her impressive win in Metz last Saturday with 7.10 (the second fastest time in the world this year). Oliver will clash again against Swiss indoor and outdoor champion Ajla Del Ponte, who improved her indoor PB three times this winter with 7.17 in Karslruhe, 7.16 in Dusseldorf and 7.14 in Metz.
Women's 3000m: Titanic battle between Hassan and Chepkoech
Reigning world 1500m and 10000m champion Sifan Hassan from the Netherlands will square off against world 3000m steeplechase Beatrice Chepkoech in a titanic 3000m clash, which promises great performances. Hassan leads 3-1 in her head-to-head races against Chepkoech, but she has not run indoors since the 2018 World Indoor Championships in Birmingham, where she won the silver medal in the 3000m and the bronze in the 1500m. The Dutch star holds the world mile record and European records over all distances betwenn the 1500m and the half marathon. The line-up also features Ethiopian runners Fantu Worku (second in Karlsruhe in 8:42.22) and Lemlen Hailu (world under 20 record holder in the 1500m in 4:01.57 in Liévin in 2020).
Men's 1500 metres: Tefera and Ingebrigtsen chase a great time
World indoor champion and record holder Samuel Tefera will face 1500m and 5000m European gold medallist Jakob Ingebrigtsen in a world-class men's 1500m race. Tefera won the world indoor title in Birmingham in 2018 at the age of 18 and set the world indoor record with 3:31.04 one year later in the same West Midlands city.
Ingebrigtsen beat Tefera in Dusseldorf in 2019 setting the world under 20 record with 3:36.02. The Norwegian star won the gold medal in the 3000m and the silver in the 1500m at the European Indoor Championships in Glasgow one month later. The line-up also features Jakob's brother Filip Ingebrigtsen (world bronze medal in the 1500m in London 2017), Marcin Lewandowski (European indoor bronze in the 1500m in Glasgow 2019) and Frenchman Jimmy Gressier (European Under 23 champion in cross country, 5000m and 10000m).
Women's 1500m: Muir and Tsegay make seasonal debut
European 1500m and 3000m champion Laura Muir and Ethiopia's Gudaf Tsegay will make their debut this season. Muir won all her outdoor 1500m races last summer in Stockolm, Chorzow and Berlin and set the fastest time in the world last year with 3:57.40. Tsegay won the world 1500m bronze medal in Doha 2019 ahead of Muir setting her outdoor PB with 3:54.38.
Men's 3000 metres: Ethiopian affair with Barega, Girma and Wale
World 5000m champion Selemon Barega will make his second appearance this indoor season four days after setting the world seasonal best in the 1500m clocking 3:34.62 in Metz. The Ethiopian 21-year-old set his 3000m PB with 7:36.64 in Liévin in 2018. He will run against his compatriots Lemecha Girma and Getnet Wale, who finished respectively second and fourth in the 3000m steeplechase at the 2019 World Championships in Doha 2019. Girma improved his 3000m indoor PB to 7:34.94 last year.
Women's 800 metres: Alemu against the best European middle-distance runners
Ethiopian middle-distance runner Habitam Alemu will run her second 800m race in four day after winning in Metz in 2:00.85. Alemu will face 800m and 1500m European under 23 champion Jemma Reekie from Great Britain, who ran a world indoor seasonal best in 2020 with 1:57.91, Hedda Hynne from Norway (world outdoor seasonal leader in 2020 with 1:58.10 in Bellinzona) and British 18-year-old rising star Keely Hodgkinson, who set the world under 20 record with 1.59.03 in Vienna on 30 January.
Men's 800m: European Indoor Championships preview with Giles, Kszczot, Bosse and Tuka
Elliot Giles from Great Britain will chase his second World Indoor Tour race in the men's 800 metres after finishing first in Karlsruhe in 1:45.50. The 2016 European outdoor bronze medallist will face reigning world indoor and European outdoor gold medallist Adam Kszczot from Poland, two-time world outdoor medallist Amel Tuka from Bosnia and reigning European Indoor champion Alvaro De Arriba from Spain.
Men's long jump: Echevarria chases his second consecutive World Indoor Tour win
World indoor champion Juan Miguel Echevarria will be looking to win his second consecutive World Indoor Tour long jump competition this year after Karlsruhe, where he set the second best performance in 2021 with 8.18m. The 22-year-old Cuban jumper will take on European Indoor and Outdoor champion Miltiadis Tentoglou from Greece, European indoor silver medallist Thobias Montler from Sweden and 2017 world under 18 champion Lester Lescay from Cuba.
Women's pole vault: Bradshaw tries to continue her winning streak
Former European Indoor gold medallist Holly Bradshaw will compete on French soil for the second time after winning in Rouen last Saturday with 4.85m (third in the world indoor seasonal list). The British pole vaulter will be challenged by reigning Olympic and European champion Ekaterini Stefanidi from Greece, Slovenia's Tina Sutej, who won in Ostrava last week with 4.70m, and Canadian record holder Alysha Newman, who set her outdoor PB with 4.82 in 2019.
Women's shot put: Dongmo bids to repeat Karlsruhe win
Portugal's Auriol Dongmo will be bidding her second World Indoor Tour win this season after setting the world seasonal best with 19.65m in Karlsruhe. Dongmo's top rival is double European outdoor champion Christina Schwanitz, who set her seasonal best with 19.11m in Chemnitz.
Women's 2000m steeplechase
Marusa Mismas Zrimsek will chase her second consecutive win in Liévin in a rarely contested indoor 2000m steeplechase race one year after setting a world seasonal best time of 5:47.79. The Slovenian runner will battle against Barhein's Winfred Yavi Mutile, who finished fourth in the 3000m steeplechase at the 2019 World Championships in Doha.
Live stream and TV coverage
The event will be streamed live in most countries around the on World Athletics youtube channel and Facebook page. For more live stream and TV coverage info see the page here.
-->