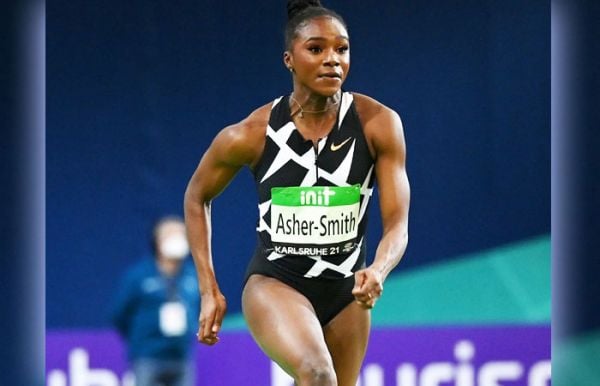 World 200 champion Dina Asher-Smith from Great Britain and former world pole vault record holder Renaud Lavillenie headlined a great edition of the Karlsruhe Indoor Meeting, the first leg of the World Athletics Indoor Tour Gold.
Women's 60 metres: World leading time for Asher-Smith
Asher Smith set two world leading times in the women's 60 metres heats with 7.11 and in the final with 7.08, equalling her lifetime best set at the 2015 European Indoor Championships in Prague 2015 and in the Glasgow British Indoor Grand Prix in 2018 in her last 60 metres. Orlann Ombissa Dzangue finished second in 7.16 holding off Ajla Del Ponte, who equaled her PB with 7.17.
Dina Asher Smith: "Obviously it has been a strange year and a long time since I have competed on the international stage, so I didn't know what to expect. To open with the fastest opener ever and equal my PB was really good. I have been working hard in training and I am happy to see some of the elements coming through. The indoor season is really important this year, more than ever, because we have missed a whole year of high-level competitions. I am excited for what my next races bring".
Men's pole vault: Lavillenie sets world leading mark and meeting record with 5.95
Former world pole vault record holder Renaud Lavillenie won the men's pole vault in Karlsruhe for the fourth time in his career clearing 5.95m in his first attempt. The 34-year-old Frenchman had a clean-sheet vaulting all heights at 5.62,, 5.80m, 5.88m, 5.95m at the first time of asking. Lavillenie also improved his meeting record set in 2016 with 5.91m.
Lavillenie started the season with a then-world leading mark of 5.92m in Bordeaux in mid-January, but KC Lightfoot vaulted higher with 5.94m one day later.
US Matt Ludwig cleared 5.80m to finish second. Cole Walsh clinched third place with 5.72m on countback over German Torben Blech.
Renaud Lavillenie: "It was a long competition but a good one. Honestly, I did not expect to jump so high today. I was going to jump off a shortened approach of 16 steps and could not find my rhythm, so in my warm-up I moved to 20 steps and found that my rhythm returned, so I went with that. The meeting in Karlsruhe is really special for me. One of the main organizers is Alain Blondel. He is a very good friend of mine. I know he gives everything he has got for the athletes. Usually, we get very strong support from the crowd here in Karlsruhe. Today it was different because there was no audience, but there is still a special atmosphere to this meeting. All of us want to perform well as a gift to the organisers because they put in so much effort".
Men's 60m hurdles: Belocian sets lifetime best
Former world under 20 champion and 2016 European bronze medallist Wilhelm Belocian set his PB in the 60m hurdles heats with 7.48 and won the final with 7.49 ahead of US Aaron Mallett (7.59) and world indoor bronze medallist Aurel Manga (7.64).
Women's 60m hurdles: Neziri improves national record
Finn Nooralotta Neziri improved her national record in the women's 60 metres hurdles by 0.05 with an impressive European leading time of 7.92 holding off African champion and Commonwealth Games gold medallist Tobi Amusan (7.94), European Indoor champion Nadine Visser (7.96), Elvira Herman (7.99) and Luminosa Bogliolo (8.05).
Women's shot put: Portugal's Auriel Dongmo won the women's shot put setting a world seasonal best with 19.65m in the second round, improving the national indoor record and the meeting record held by German Christina Schwanitz with 18.41m since 2017. Dongmo opened the competition with 18.81m, which would have been enough to win, and produced two more attempts over the 19m barrier.
Swede Fanny Roos finished second setting the national record with 18.64m ahead of Sophie Mckinna, who improved her PB with 18.46m, and three-time US champion Chase Ealey (18.34m). Christina Schwanitz had to settle with fifth place with 18.27m.
Auriel Dongmo: "I am really happy with my competition. It was what we had been waiting for. It does not make any difference to me that there is no audience. It is always stressful to compete with the "big" athletes. To compete against them puts a lot of pressure on me. My coach and I have been working on the technique a lot. I try to improve every day and this is the result. The pandemic is really bad but for the athletes it was good to have more time for the Olympic Games. For me, it is OK".
3000 metres: Birgen and Chepkoech set world leading time
World indoor bronze medallist Bethwell Birgen set a world leading time in the men's 3000 metres with 7:34.12 moving up to 10th place in the Kenyan all-time list. Mohamed Katir smashed his PB by nine seconds with 7:35.29 (the fifh fastest European time ever).
World 3000m record holder Beatrice Chepkoech clocked the fastest time in the world this year in the women's 3000m with 8:41.98 ahead of Ethiopia's Fantu Worku (8:42.22) and Great Britain's Melissa Courtney Bryant (8:42.41).
Men's 800 metres: Impressive race by Giles
Former European bronze medallist Elliot Giles from Great Britain launched his kick with 100m to go to win an impressive men's 800m race with a world leading time of 1:45.50 ahead of French middle distance runners Benjamin Robert (PB 1:46.30) and Pierre Ambroise Bosse, who missed his PB by 0.15 with 1:46.40.
Elliot Giles: "I don't know I am satisfied or not. I was really nervous all day and felt almost as a beginner before the race. What happened during the race was funny. It was like the daily traffic in Paris and I was the scooter trying to pass through the cars, It was weird that there were no spectators today. The time is not bad, but it is just the beginning. My plan is now to compete as much as possible, because we never know what is going to happen".
Cuban wins by Echevarria and Povea in the jumps
World indoor champion Juan Miguel Echevarria from Cuba jumped a world leading mark of 8.18m in the first round to take the win in the men's long jump ahead of his compatriot Maykel Masso (8.08m) and European indoor and outdoor champion Miltiadis Tentoglou (8.05m).
Liadagmis Povea leapt to a world leading performance of 14.54m in the second round in the women's triple jump ahead of Finland's Kristina Makela (14.13m).
Men's 400 metres: Local win by Schlegel
Marvin Schlegel from Germany ran the fastest time of the evening with his PB of 46.61 holding off Spanish record holder Oscar Husillos by 0.07. Three-time world indoor champion Pavel Maslak dipped just the 47 seconds barrier with 46.99 beating Asian champion Yousef Karam from Kuwait (47.07).
Women's 1500 metres: Surprise win by Trost
Germany's Katharina Trost took a surprising win in the women's 1500m in 4:12.02 ahead of Uganda's Winnie Nanyondo (4:12.36).
-->