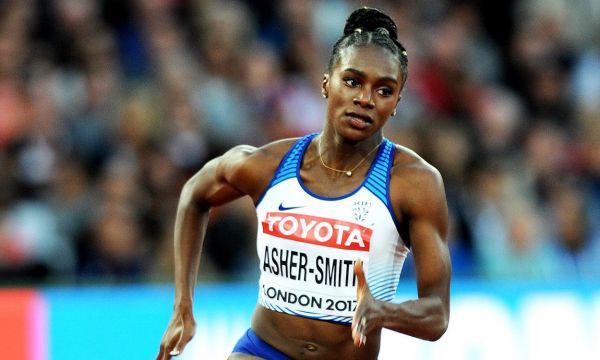 Five of the best European sprinters Dina Asher-Smith, Ewa Swoboda, Ajla Del Ponte, Asha Phillip and Tatjana Pinto will line up in a star-studded women's 60 metres race in the Indoor Meeting in Karlsruhe, the first meeting of the World Athletics Indoor Tour Gold.
Reigning world 200m champion Dina Asher-Smith will make her fourth appearance in Karlsruhe after finishing first in 2015 in 7.12, third in 2016 in 7.11 and second in 7.15. The 25-year-old British sprinter won three gold medals in the 100m, 200m and the 4x100 on German soil at the European Championships in Berlin. She won the 200m world title and two silver medals in the 100m and the 4x100 relay in Doha in 2019. Indoors the London-born sprinter won the European silver medal in the 60m in her PB of 7.08 and equalled this time in the Glasgow World Indoor Tour meeting in 2018 in her last 60m race.
Asher Smith's compatriot Asha Phillip is the fastest sprinter in the field with her PB of 7.06 set in Belgrade in 2017 when she won the European Indoor title.
Ewa Swoboda won the 60m race in Karlsruhe in 2019 in 7.10 after missing the meeting record by 0.04 in the heat. The 23-year-old Polish sprinter won two more meetings in Torun and Madrid and clinched the overall 60m title in the World Indoor Tour a few weeks before winning the 2019 European Indoor gold medal in Torun in 7.09.
Swoboda won the European 100m under 20 and under 23 titles and the world under 20 silver medal in the Polish city of Bydgoszcz. She set the world under 20 record and her lifetime best with 7.07 at the age of 18 in Torun in 2016.
Swiss 60m and 100m champion Ajla Del Ponte opened her successful 2020 season with a second place in Karlsruhe and went on to win two Wanda Diamond League meetings in Monaco and Stockholm in the 100 metres last summer.
German sprinter Tatjana Pinto won the Karlsruhe 60m race with 7.10 in 2018. Pinto won four German outdoor titles, two national indoor titles and the European gold medal in the 4x100 relay in Helsinki 2012.
Men's pole vault: Lavillenie bids to win in Karlsruhe for the fourth time
Former pole vault world record holder and 2012 Olympic champion Renaud Lavillenie started the 2021 indoor season on a high note with a European leading mark of 5.92m in Bordeaux in mid-January. The 34-year-old Frenchman will be bidding to win the pole vault for the fourth time in his career in Karlsruhe after finishing first with 5.86m in 2015, with 5.91m in 2016 and with 5.70m in 2020. He also finished second in 2018 with 5.86m. Lavillenie will lead a strong field, which also features world outdoor bronze medallist and Polish outdoor record holder Piotr Lisek and 2019 European Indoor champion Pawel Wojciechowski.
Men's 60 metres hurdles: Martinot Lagarde clashes against Mallett and Eaton
Reigning European champion and world bronze medallist Martinot Lagarde started the 2021 indoor season with a win in a European seasonal best of 7.54 in Miramas last week. A strong French trio is completed by 2016 European bronze medallist and 2014 World under 20 champion Wilhelm Belocian and 2018 world indoor bronze medallist Aurel Manga.
The 60m hurdles also features US hurdlers Aaron Mallett, who won the 110m hurdles race in 13.15 in the Wanda Diamond League meeting in Doha last year, and Jarret Eaton, world indoor silver medallist in Birmingham 2018.
Women's 60 metres hurdles: Visser, Amusan, Bogliolo, Herman and Talay bid for a fast time on world record track
Karlsruhe has been a special venue for women's 60 metres hurdles since 2008 when Swede Susanna Kallur broke the world record with 7.68. A fast race is expected on Friday. Reigning European Indoor champion Nadine Visser set the world seasonal best in the 100m hurdles last summer with 12.68 in Turku and won eight of her nine meetings last summer, losing only to 2018 European outdoor champion Elvira Herman in Chorzow.
Visser will line up against 2019 World University Games champion Luminosa Bogliolo from Italy, who ran consistently last summer dipping under the 13 seconds in the 100m hurdles ten times and narrowly missed the national record by 0.03 with 12.79 in Turku. Visser beat Bogliolo three times in Turku, Bellinzona and Rome. Bogliolo set her indoor PB with 8.02 in Karlsruhe 60m hurdles race last year.
The line-up also features Belarusian hurdlers Elvira Herman, Alina Talay (European Indoor gold medallist in Prague 2015), Germany's Pamela Dutkiewicz Emmerich (world outdoor bronze medallist in London 2017 and European silver medallist in Berlin 2018), France's Cyrena Samba Mayela (world under 18 silver medallist in Nairobi 2017 and national outdoor champion in the 100m hurdles in 2020 in 12.73), Finnish hurdlers Nooralotta Neziri (European Under 20 champion in 2011) and Reetta Hurske (silver medallist at the World University Games in Naples 2019). The only non-European top hurdler in the field is Nigeria's Tobi Amusan, fourth at the 2019 World Championships in Doha in 12.49 and Commonwealth Games gold medallist in Gold Coast in 2018.
Men's long jump: Echevarria clashes against Tentoglou
Cuban 22-year-old Juan Miguel Echevarria will lead a high-quality field in the men's long jump. Echevarria will jump in Karlsruhe for the third time in his career following a win in 2018 and the second place in 2019. Echevarria won the world indoor title in Birmingham with his indoor PB with 8.46m, the world outdoor bronze medal in Doha and the Diamond League in Zurich with 8.65m in 2019.
Echevarria will clash against Greece's Miltiadis Tentoglou, who won the European outdoor gold medal in Berlin 2018 with 8.25m and the European indoor title in Glasgow 2019 with his indoor lifetime best of 8.38m. The Greek jumper also won the European Under 23 gold medal in Gavle 2019 with his outdoor PB of 8.32m.
Nine-time Spanish champion Eusebio Caceres will return to Karlsruhe, where he won twice in 2015 with his PB of 8.16m and in 2020 with 7.99m.
The line-up is completed by 2019 European Indoor silver medallist Thobias Montler from Sweden, 2017 European Under 23 silver medallist Filippo Randazzo from Italy, European outdoor silver medallist Fabian Heinle and Karlsruhe native Julian Howard, who won the home meeting in 2016 and finished second with 8.03m in 2015.
Women's 3000 metres: Beatrice Chepkoech chases a fast time
Beatrice Chepkoech will chase a fast time in the women's 3000 metres. The 29-year-old Kenyan runner set her indoor PB with 8:39.15 in Ostrava in 2018, but she ran faster last year in the Doha Diamond League with 8:22.92. Chepkoech broke the 3000m steeplechase world record clocking 8:44.32 in Monaco Diamond League in 2018. She ran in Karlsruhe twice before in 1500m finishing third in 2018 and fourth in 2020 and set the national indoor record over this distance in Dusseldorf with 4:02.09.
Chepkoech will take on Melissa Courtney Bryant, who won the 3000m in Karlsruhethe in 2019 with 8:43.36, Ethiopian 21-year-old runner Fantu Worku, who won the 3000m last year in Karlsruhe with 8:37.58, Kenya's Gloria Kite (outdoor PB 8:29.91) and Slovenia's Marusa Mismas (European Under 20 silver medallist in the 3000m steeplechase in Rieti 2013).
Women's shot put: Schwanitz takes on Ealey
Double European outdoor champion Christina Schwanitz will be looking to improve the world seasonal best of 19.11m she set last week in Chemnitz in her first competition since the 2019 World Championships, where she won the bronze medal. The 35-year-old German veteran will take on three-time US indoor champion and 2019 Shanghai Diamond League winner Chase Ealey, 2020 world outdoor leader Auriol Dongmo from Portugal, reigning European outdoor champion Paulina Guba from Poland and 2016 Olympic finalist Raven Saunders from the USA.
Men's 400 metres: Maslak faces Husillos
Three-time 400m world and European indoor champion Pawel Maslak from the Czech Republic will square off against European Indoor silver medallist and Spanish indoor record holder Oscar Husillos, Asian champion Yousef Karam from Kuwait, Samuel Garcia from Spain and Marvin Schlegel from Germany, who set his PB with 46.66 last week.
Men's 800 metres: Bosse returns to Karlsruhe
France's 2017 world outdoor gold medallist Pierre Ambroise Bosse returns to Karlsruhe, where he set his indoor lifetime best with 1:46.25. The Frenchman will run against 2018 European silver medallist Andreas Kramer from Sweden, 2016 European bronze medallist Elliot Giles from Great Britain and two-time European indoor medallist Kevin Lopez from Spain.
Men's 3000 metres: Birgen bids for the second consecutive win in Karlsruhe
Kenya's Bethwell Birgen will be bidding to win the men's 3000m for the second consecutive year in Karlsruhe. The world indoor 3000m bronze medallist will clash against French 3000m steeplechase specialist Dijali Bedrani and 2012 Olympic 1500m bronze medallist Abdelati Iguider from Morocco.
Women's 1500 metres: Nanyondo and Mageean start as favorites
The stand-out names in the women's 1500 metres are Winnie Nanyondo from Uganda (fourth in the 800m at the 2019 World Championships in Doha) and Clara Mageean from Ireland (European Indoor bronze medallist in the 1500m in Berlin 2018).
The Karlsruhe indoor meet will be streamed live on Youtube and broadcast live on ARD sports. For more info see the live page here.
-->