• Yulimar Rojas Breaks World Triple Jump Indoor Record in Madrid

Posted by:
Watch Athletics
Saturday, 22 February 2020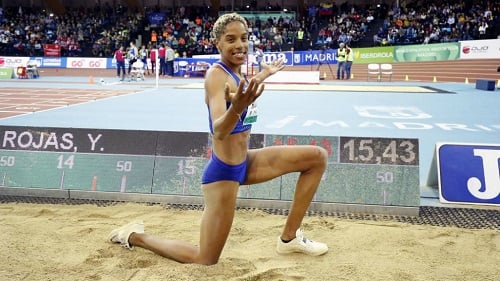 Double world outdoor and indoor champion Yulimar Rojas from Venezuela broke the world indoor record in the women's triple jump with 15.43m in her sixth attempt.
Watch Yulimar Rojas break triple jump World record.
She started with a foul before jumping 14.65m to move into the lead. After another foul in the third round Rojas leapt to 15.29m breaking her South American indoor record set this winter with 15.03m in Metz and moving to second in the world all-time indoor list. After a third foul Rojas bounded out at the world record of 15.43m in the final attempt to the delight of her fans, who packed the Polideportivo Municipal de Gallur. The Venezuelan jumper leapt 2 cm further than her outdoor record of 15.41m set last September in Andujar a few weeks before winning her second world outdoor title.
The South American jumper missed Inessa Kravetz's world outdoor record of 15.50m by just seven cm.
"I am over the moon. I want to return home and cry. I need to cry to release the adrenaline I have right now. When I managed 15.29m so easily in the fourth round, I thought the record was definitely in my legs. I dedicate the world record to my family, to my coach and the city of Madrid. I can't believe that I am the world record holder", said Rojas.
Ronnie Baker clocked 6.44 to win his seventh consecutive race this season in the men's 60m in 6.44 equalling his seasonal best set in Lievin two days ago. Baker had previously won the heat in 6.50. Derek Kemp finished runner-up in a PB of 6.48 ahead of European Indoor champion Jan Volko, who set a Slovak record with 6.55. Japan's Shuhei Tada set his PB with 6.56.
World bronze medallist Fabrice Zango from Burkina Faso won his third competition of the season in the men's triple jump with 17.31m in the final attempt. After two fouls the burkinabé took the lead with 17.09m and improved to 17.22m in the fourth round and 17.31m in the sixth round. France's Melvin Raffin improved his PB with 17.07m to finish second ahead of China's Ruiting Wu (16.99m) and Spain's Pablo Torrijos (16.77m).
World Indoor champion Juan Miguel Echevarria won the men's long jump with a meeting record of 8.41m in the sixth attempt missing his indoor PB by just 5 cm. The young Cuban jumper also produced the second and the third best jumps of the evening with 8.33m and 8.31m. European outdoor and indoor champion Miltiadis Tentoglou from Greece finished second with 8.07m beating Sweden's Thobias Montler and Japan's Yuki Hashioka, who both jumped 8.02m. World Indoor 60m hurdles silver medallist Christina Clemons won the women's 60m hurdles setting the meeting record with 7.82 after clocking 7.90 in the heat. Thanks to this win Clemons secured the first place in the overall standings ahead of Nia Ali, who led the ranking following her win in Lievin earlier this week, but had to settle with second place in Madrid with 7.88 ahead of Spain's teresa Errandonea, who set her PB with 8.00.
Reigning world indoor champion Andy Pozzi set a seasonal best and a meeting record in the men's 60 metres hurdles with 7.48 following his win in the heat in 7.55. The British hurdler won his seventh race this season. Yaqoub Mohamed Al Youha from Kuwait improved his national record by 0.02 with 7.52.
Croatia's Filip Mihaljevic improved his national indoor record and the meeting record in the men's shot put with 21.74m in the final round to win his second competition in the World Indoor Tour after finishing first in Dusseldorf. Mihaljevic took the lead with 21.38m in the second round. Konrad Bukowiecki overtook the Croatian putter with 21.73m in the third round. Tomas Stanek improved to 21.54m to move into second ahead of Mihaljevic. In the final round Mihaljevic produced a put of 21.74m securing the win in the shot put tour standings.
Ethiopia's Getnet Wale followed up his 3000m win in Lievin with another first place in the men's 3000m in 7:39.96 and secured the win in the World Indoor Tour standings. The steeplechase specialist held off Bethwell Birgen (7:40.23) and Selemon Barega (7:40.30).
Gudaf Tsegay secured her third win in the women's 1500m in 4:04.66 and the first place in the World Indoor Tour standings. Lemlem Hailu finished second in 4:05.24 holding off 2014 world indoor silver medallist Axumawit Embaye by 0.19. The top six runners dipped under the previous meeting record of 4:08.31.
Kenya's Collins Kipruto claimed the first place in the standings of the World Indoor Tour in the men's 800 metres with 30 points thanks to his third win in a meeting record of 1:46.09. Kipruto, who had previously won two more races in Torun (1:45.86) and Lievin (1:46.34), held off world indoor champion Adam Kszczot (1:46.30) and Spain's Mariano Garcia (PB 1:46.31).
European outdoor and indoor champion Justyna Swiety Ersetic from Poland overtook Lea Sprunger in the back straight to win the women's 400m in 51.93 securing the World Indoor Tour title. Sprunger finished runner-up in 52.26.
Former world indoor champion Konstantinos Filippidis claimed the win in the men's pole vault with 5.60m.
Spain's Samuel Garcia won the men's 400m in 46.39 missing his PB by 0.04. Youssef Karam from Quwait finished runner-up in 46.41.
See full meet results here.