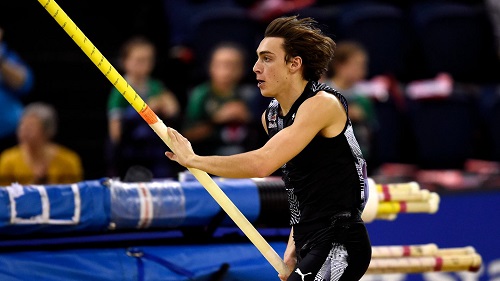 Armand "Mondo" Duplantis will seek his third consecutive world record in the men's pole vault at the Meeting-Haut-de France Pas de Calais in Lievin, the sixth and penultimate leg of the World Athletics Indoor Tour.
The 20-year-old Swedish super star started the indoor season with a win in Dusseldorf with 6.00m before improving Renaud Lavillenie's world record by 1 cm with 6.17m in Torun and added a centimetre by clearing 6.18m in Glasgow last Saturday. He leads the standings of the World Indoor Tour with 36 points.
Duplantis will renew his rivalry against his friend Sam Kendricks, who set the US Indoor record with 6.01m in Rouen and beat the Swede at the World Championships in Doha on countback with5.97m. Duplantis beat Kendricks twice this winter in Dusseldorf and Glasgow. The other names to watch are Olympic champion Thiago Braz Da Silva from Brazil, 2015 world champion Shawn Barber from Canada and 2011 world champion and 2019 European Indoor champion Pawel Wojciechowski.
Lievin has a reputation as a magic venue for athletics. Three of the seven world records which marked the history of the Northern French meeting were set in the pole vault. Sergey Bubka set one of his 35 world record in Lievin in 1993 by clearing 6.14m. Svetlana Feofanova set her fourth world record in 2002 with 4.74m. Yelena Isinbayeva improved her world record to 4.89m in 2005. In the women's pole vault Sandi Morris will seek her third consecutive win this winter. The world silver medallist started the year with a 4.91m clearance in New York and followed it up with a 4.90m win after a close battle with Jenn Suhr at last weekend's US Indoor Championships in Albuquerque. Morris will take on 2015 world gold medallist Yarisley Silva from Cuba, Canadian Alysha Newman (national record of 4.82m) and 2016 European bronze medallist Angelica Bengtsson from Sweden.
World triple jump bronze medal Fabrice Zango from Burkina Faso started his indoor season with an African indoor record of 17.77m in Paris Bercy. Zango aims at breaking the meeting record held by his coach Teddy Tamgho with 17.64m since 2011. In the women's 60 metres hurdles world outdoor champion Nia Ali will clash against world indoor silver medallist Christina Clemons. Ali will seek her second win in this edition of the World Indoor Tour after finishing first in Boston. She took second place behind Alina Talay in Glasgow in a close race. Clemons leads the standings with 24 points after winning in Dusseldorf and finished third in Boston and Karlsruhe.
Maryna Beck Romanchuk leads the standings in the women's long jump with 30 points and is looking to secure the 20000$ bonus after scoring three wins in Karlsruhe (6.92m), Torun (6.96m) and Glasgow (6.90m). The 24-year-old Ukrainian jumper will face world bronze medallist Eze Brume from Nigeria and Nastassia Mironchyk Ivanova, who won the European Indoor silver medal in Glasgow last year with 6.93m.

US sprinter Ronnie Baker will be looking to win his third men's 60 metres race after winning in New York (6.54) and Glasgow (6.50). The 2018 world indoor bronze medallist will face European Indoor gold medallist Jan Volko, who is currently leading the standings with 20 points, US Mike Rodgers, who finished second in Glasgow, and US Demek Kemp, who won in Boston in 6.50. World 5000m silver medallist Selemon Barega is currently second in the 3000m stangings with 10 points thanks to his win in Dusseldorf with 7:35.71 and is looking to win his second race against his compatriots Telahun Bekele (world seasonal leader in the 5000m in 2019) and Getnet Wale (Diamond League winner in the 3000m steeplechase).
World Indoor 1500m record holder Samuel Tefera will be the top name in the men's 1500m race, which will also feature European indoor 1500m champion Marcin Lewandowski from Poland and Charlie Da'Vail from Great Britain, who clocked a PB of 3:30.62 in Monte-Carlo last year. World bronze medallist Gudaf Tsegay from Ethiopia is the favourite in the women's 1500 metres. She will face her compatriot Axumawit Embaye, who is leading the standings with 20 points, and Canadian record holder and world finalist Gabriela Debues Stafford.
Reigning world indoor champion and three-time European champion Adam Kszczot will be bidding to win his second consecutive win a few days after his first place in 1:46.34 in Glasgow ahead of Kenyan Cornelius Tuwei, who will be also in the Lievin line-up. Another middle-distance runner to watch is Kenya's Michael Saruni, who set his indoor PB of 1:43.98 last year.
In the women's 800m Jemma Reekie will seek her second consecutive win in the tour after finishing first in the 1500m in Glasgow. Reekie set the British record this winter with 1:57.91. Olympic silver medallist Orlando Ortega will be looking his second win in the men's 60m hurdles on French soil after beating European champion Pascal Martinot Lagarde in Val de Reuil last Saturday. They will renew their rivalry in Lievin. The other stand-out name is Kuwait's Yaqoub Mohamed Ali, who won in Dusseldorf and finished second in Glasgow.
World indoor gold medallist Murielle Ahouré will be looking to win her first 60m race after finishing runner-up to Shelly Ann Fraser Pryce in Glasgow last Saturday. She will take on 2017 European Indoor gold medallist Asha Phillip from Great Britain, Gambia's Gina Bass (7.16 this year) and Switzerland's Ajla Del Ponte, the fastest sprinter in Europe this winter with 7.20.
The meeting will end with the men's 1000m race featuring France Pierre Ambroise Bosse, world outdoor champion in London 2017 in the 800 metres.