Duplantis Breaks the World Pole Vault Record Again in Glasgow

Posted by:
Watch Athletics
Saturday, 15 February 2020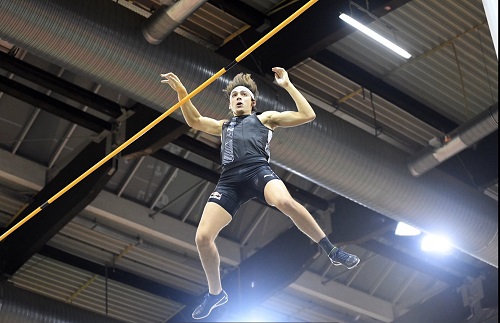 Armand "Mondo" Duplantis broke his world record set in Torun last week as he cleared 6.18m with the greatest ease at the Muller Indoor Grand Prix in Glasgow.
The European outdoor champion and world silver medallist opened at 5.50m and cleared 5.75m in his second attempt before getting over 5.84m at the first try. Sam Kendricks and Ben Broeders did not clear 5.84 and Duplantis was left alone in the competition. Duplantis made it look very easy when he cleared 6.00m at the first time of asking with a big margin over the bar. Duplantis needed one attempt to sail over the 6.18 metres barrier setting his second world record in as many weeks. He won a world record bonus cheque of $ 30000. Kendricks finished second with 5.75m on countback over Broeders.
"This was such a great competition. The crowd gave me such a great energy and I really thrive off that. It's unfair to think I will break the world record every time I compete. I don't think about it too much. You don't need to break a record to win every competition. Winning is always the goal, then if I have the energy I will crank it up", said Duplantis.
Reigning world silver medallist Maryna Bekh Romanchuk from the Ukraine jumped 6.90m twice in the third and fifth rounds to win her third consecutive women's long jump competition in the World Indoor Tour after Karlsruhe and Torun. The 24-year-old Ukrainian jumper also produced 6.81m in the second round and 6.83m in the fourth round in her two other valid attempts. Khaddi Sagnia from Sweden finished a distant second with 6.53m.
World Indoor gold medallist Ronnie Baker from the USA cruised through to take a easy win in the men's 60 metres setting a new stadium record with 6.50 with a huge margin over his compatriot Mike Rodgers (6.67) and 2019 European Indoor gold medallist Jan Volko (6.68). Two-time 100m Olympic champion and four-time world gold medallist Shelly Ann Fraser Pryce won the eagerly-awaited women's 60m sprint race in 7.16 in her first indoor race since 2014 beating 2018 world indoor champion Murielle Ahouré (7.22) and Jamaica's Natasha Morrison (7.30).
Double 1500m and 3000m European Indoor champion Laura Muir from Great Britain made an attempt at breaking Maria Mutola's world indoor record in the 1000m but the Scottish middle- distance runner fell short of her goal clocking 2:33.45 in a solo run against the clock. Muir set the 11th fastest indoor time in history winning the race with a margin of over 4 seconds over Adelle Tracey from Great Britain (2:37.95).
Double European under 23 champion Jemma Reekie launched a devastating kick moving from fifth to second in the final lap to win the women's 1500 metres race in 4:04.07 ahead of Ethiopia's Dawit Seyaum (4:04.24) and Morocco's Rababe Arafi (4:05.34). "It was a good race and a good confidence boost. I try to focus on myself because I will only ever work with the pressure that I put on myself and I don't feel it off other people", said Reekie.

Former European indoor champion Alina Talay from Belarus took a very close photo-finish win in the men's 60m hurdles in 8.03 edging 2019 world outdoor champion Nia Ali, who shared the same time as the winner, and 2018 world indoor silver medallist Christina Clemons (8.04). Reigning world indoor champion Andy Pozzi from Great Britain took the win in the men's 60m hurdles in 7.57 continuing his unbeaten streak this indoor season after his wins in Paris Bercy and Torun. Quwait's Mohamed Yaqqub Al Yohua finished second in 7.61 ahead of Glasgow 2019 European Indoor champion Milan Trajkovic from Cyprus (7.72).
World silver medallist Yaroslava Mahuchik from the Ukraine won the women's high jump with a clean sheet until 1.93m before failing three attempts at 1.97m. Mahuchik secured the first spot in the standing with 20 points and a $20000 bonus.
Three-time European outdoor champion and world indoor gold medallist Adam Kszczot from Poland produced his kick in the final 50 metres to take a close win in the men's 800m in 1:46.34 ahead of Kenya's Cornelius Tuwei (1:46.52) and Great Britain's 1:47.16).
World indoor 3000m bronze medallist Bethwell Birgen from Kenya broke away from European indoor gold champion Marcin Lewandowski in the final lap to win the men's 1500m in 3:36.22 following two victories in the 3000m in Boston and Karlsruhe. Lewandowski finished second in 3:37.13 ahead of Jesus Gomez from Spain (3:37:22).
British hurdles specialist Jessie Knight took the win in the women's 400 metres in 51.57 ahead of reigning European champion Justyna Swiety Ersetic (51.68) and Lisanne De Witte from the Netherlands (53.25). Swiety Ersetic holds a slight lead over De Witte in the World indoor Tour standing with 24 points to 22.
World championships finalist Akeem Bloomfield from Jamaica pulled away in the final 50 metres to win the men's 400 metres in 46.20 ahead of US Obi Igbokwe (46.41) and Yousef Karam (46.49).
See full meet results here.
Watch Duplantis break World record here.
-->