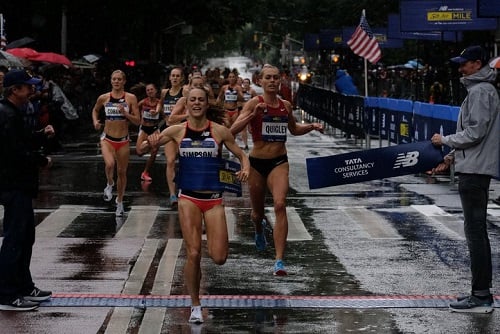 American 1500m superstar, Jenny Simpson, took NYRR 5th Avenue Mile on Sunday in New York.
World and Olympic games medallist, Simpson, held off a late charge from fellow American Colleen Quigley to win her sixth straight and seventh total 5th Avenue Mile in 4:18.38.
"I wanted to be hard off the line. I wanted to go straight to the center and say, 'If you're going to try to win you're going to have to first keep up.' If there's an advantage to having won as many times as I have, it's the experience and the fact that the field around you knows that you have the experience. And so if I eke an advantage of that it might be by trying to set the tone early. … I always say this finish line is a dual finish. It's the end of a mile, but it's also the end of my season. And so it means a lot to me to end with a win and I'm really willing to fight really hard for that." Simpson said.
Colleen Quigley claimed the second place in 4:19.53 as Emma Coburn, the reigning World Champion over 3000m steeplechase, narrowly beat Great Britain's Melissa Courtney for third in 4:20.19.
Women's Top 10 Results 
1. Jenny Simpson (USA) 4:18.38 
2. Colleen Quigley (USA) 4:19.53 
3. Emma Coburn (USA) 4:20.19 
4. Melissa Courtney (GBR) 4:20.30 
5. Alexa Efraimson (USA) 4:21.05 
6. Laura Weightman (GBR) 4:21.31 
7. Emily Lipari (USA) 4:21.96 
8. Cory McGee (USA) 4:24:37 
9. Nicole Sifuentes (CAN) 4:24.62 
10. Sarah McDonald (GBR) 4:24.73