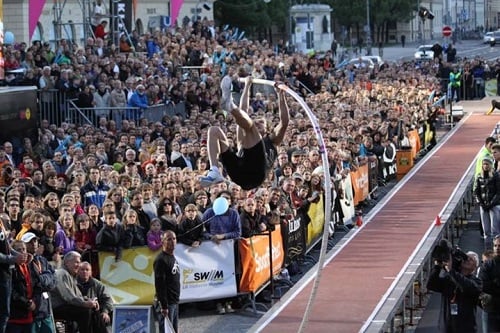 The Golden Fly Series has entered its fifth year! On the 8th September 2018 the pole vaulters and long jumpers compete again in Schaan, Liechtenstein. 
Some of the athletes have already competed at the Golden Roof Challenge in Innsbruck this year, while others are just coming off the European Championships in Berlin to inspire athletics fans onsite in Liechtenstein once more. Innsbruck winners Konstantinos Filippidis (GRE), Maryna Kylypko (UKR), Markus Rehm (GER) and Krystyna Hryshutyna (UKR) will be challenged by Brits Jazmin Sayers, Adam Hague and Swiss top athlete Benjamin Gföhler.
The centrepiece of the contest is the "FlySwat", the largest mobile athletics facility in the world. It's 72.3 metres long and weighs 25 tons. The International Association of Athletics Federation (IAAF) has certified the mobile set-up as an official competition facility and will officially approve any world records set on the set-up. To ensure exciting competitions for the viewers, the organizers only invite world-class athletes plus some local wild cards to the event.
There will be free live streaming available on Saturday, 8 September starting at 18:30 local time. To watch live stream see page live stream here. 
For more information please visit local organizers website @ http://www.goldenflyseries. com/liechtenstein-2018/.