USA women dominated the women's 100m hurdles final by sweeping the podium, while Jamaica's Elaine Thompson won the 200m final on Wednesday night in Rio
Pre race favourite Brianna Rollins took the women's 100m title clocking 12.48 seconds with Nia Ali taking silver in 12.59 seconds and Kristi Castlin winning bronze in 12.61 seconds.
It was the first time in 100m hurdles history that athletes from the same country take the whole podium at Olympic games.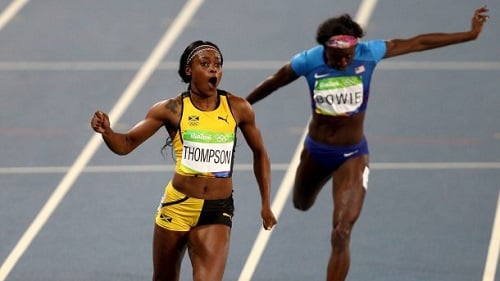 Meanwhile Jamaica's sprint super star Elaine Thompson held of reigning World champion Dafne Schippers of Netherlands to win the 200m final. Thompson clocked a new season's best of 21.78, while Schippers, who took silver crossed the line in 21.88 seconds. The women's 200m podium concluded American Tori Bowie with a time of 22.15 seconds.
The 200m gold was the second gold for Thompson at these Olympics after she won the 100m final earlier this week.