Olympic champion Renaud Lavillenie improved his own world lead when he cleared 5.95m, Teddy Tamgho the former triple jump champion breaks broke his leg at the French Outdoor Championships in Anger.
On Sunday, the pole vault record holder Lavillenie cleared 5.75m and 5.80m on his first attempt, meanwhile the winning height of 5.95m he took with second attempt. Lavillenie then unsuccessful attempts to go over 6.01m.
"It feels good. I'm very happy to do this performance at the championships. My two attempts at 6.01m were very close," Said Lavillenie.
The second place with 5.80m (2016 world #5) took Kevin Menald, while third place with 5.75m took Stanley Joseph.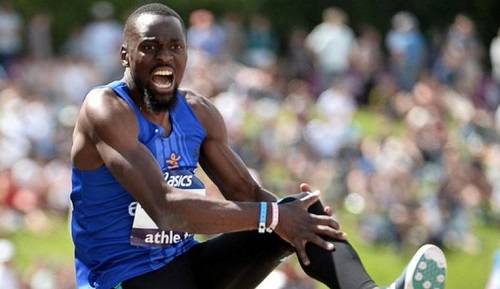 Another severe Injury suffered, the 2013 world triple jump Champion, Teddy Tamgho, who broke his leg during the triple jump contest on Saturday. Tamgho in round 5 jumped 17.15m, a result that won him the French title. however the final attempt for the French athlete was unfortunate as he broke his leg following a heavy landing in the sand pit. The French athletics chiefs said that athlete will not be able to compete in Rio as the recovery process may take up to 6 months. This injury is just one of many Tamgho has suffered.
In the men's 110m hurdles Dimitri Bascou clocked wind aided (+2.1m/s) 13.05 seconds for the win. Cindy Billaud took the women's 100m hurdles French title in 12.83 seconds.
On Saturday Jimmy Vicaut clocked 9.88 seconds to win the men's 100m final.
See full French Championships results here.
Men's pole vault video