• Bolt vs Blake vs Powell set for Racers Grand Prix

Posted by:
Watch Athletics
Tuesday, 17 May 2016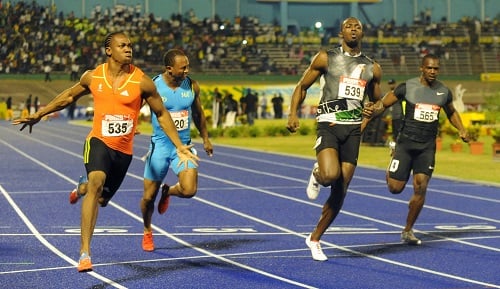 A stunning men's 100m line up has been announced by the Racers Grand Prix Organizers.
Just 2 weeks before Jamaican Olympic trials on June 11, Jamaica's top Jamaican sprinters will clash in the 100m race at the inaugural Racers Track Club Grand Prix. World's fastest man Usain Bolt will go against his teammate Yohan Blake and Asafa Powell.
In other events, former 400m world and Olympic champion Lashawn Merritt of the United States will go against defending world champion Wayde van Niekerk of South Africa in the 300m race. The meeting organizers say their goal is to attack the 300m world record.
Another stars announced for the Racers GP are Machel Cedenio and Javon Francis in the men's 400m race.
In the women's 100m world leader Tori Bowie, Carmelita Jeter, Kelly Ann Baptist and Michelle-Lee Ahye.
More meet information find here at the official event website.
Racers Grand Prix Meet Schedule
| TIME | EVENT |
| --- | --- |
| 6:00 – 6:15 PM | OPENING CEREMONY |
| 6:30 | JAVELIN THROW MEN |
| 7:05 | TRIPLE JUMP WOMEN |
| 7:10 | 400 METRES HURDLES MEN |
| 7:25 | 800 METRES WOMEN |
| 7:40 | 400 METRES WOMEN |
| 7:50 | 400 METRES MEN |
| 7:55 | HIGH JUMP WOMEN |
| 8:00 | DISCUSS THROW MEN |
| 8:05 | 300 METRES MEN |
| 8:25 | 200 METRES WOMEN |
| 8:35 | 200 METRES MEN |
| 8:45 | 100 METRES HURDLES WOMEN |
| 9:00 | 110 METRES HURDLES MEN |
| 9:15 | 100 METRES WOMEN |
| 9:30 | 100 METRES MEN |