• Grenada's James and Taplin goes 1-2 in 400m; Powell sets 100m meet record at Guadeloupe Invitational

Posted by:
Watch Athletics
Monday, 16 May 2016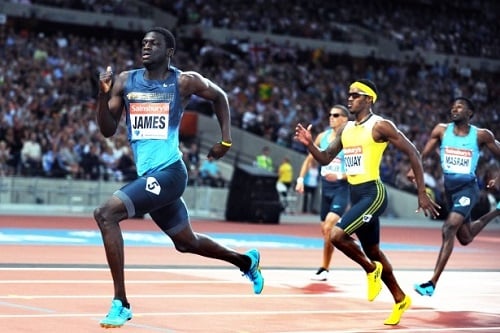 Grenada's Kirani James and Bralon Taplin went one-two in the 400m at the 2016 Guadeloupe Invitational.
Olympic champion Kirani James clocked at 44.15 seconds beating his compatriot Bralon Taplin into second 44.54 seconds on Saturday at the Region Guadeloupe Invitational.
Asafa Powell in a commanding fashion won the 100m at the Region Guadeloupe Invitational. Powell, who won the 200m at Jamaica Invitational last weekend clocked a new meeting record of 10.04. Diondre Batson of USA placed second in 10.15 while Canadian World Championships bronze medallist Andre De Grasse stopped the clock after 10.20 for third.
Women's 100m podium was occupied by American sprinters as English Gardner posted a new meet record of 11.04, Alexandria Anderson was second in 11.28 and Sholonda Solomon clocking 11.36 seconds took third.
Season's fastest men in the 200m LaShawn Merritt won the the half lap race in 20.15 seconds. BeeJay Lee took second in 20.31, while Andre De Grasse was third in 20.46.
USA posted outstanding times in the short hurdle races with Kristi Castlin running 12.69 to win women's 100m hurdles and Ronnie Ash topping the men's 110m hurdles in 13.13.
In the 400m hurdles Jamaica's Kaliese Spencer stopped the clock at 55.34 to claim the victory, meanwhile while USA's Jordin Andrade took the 400m hurdles with a time of 49.52.
Francesca McCorory of USA won the women's one lap race in 50.73.
Elsewhere on the track, former world high jump champion Donald Thomas of Bahamas went over 2.31m height to win the high jump contest.