• Top Kenyan Marathoner Gladys Cherono withdraws from London Marathon
Top Kenyan woman marathon runner Gladys Cherono pulled out of this month's London Marathon with an Injury, the London marathon Organizers announced on Wednesday.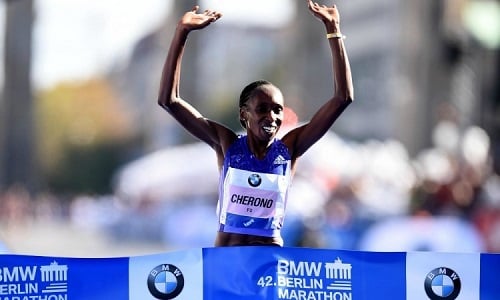 Cherono has been forced to withdraw from upcoming London marathon after she injured her hip while training in Eldoret Kenya.
The injury for Cherono is very unfortunate as Athletics Kenya will decide its rio Olympic Marathon team soon after the London Marathon on April 24.
"I am very disappointed because I was looking forward to going to the London marathon. I was prepared to go there not only to compete, but to try and seek a place in the Kenyan team for the Olympics," Cherono said.
Cherono is the leading woman marathoner in the world after she set the fastest time of 2:19.25 when she won the Berlin Marathon last September.
Last year in London Keitany finished behind the champion Ethiopia's Tigist Tufa, who will return to London to defend her title.