• Dasaolu wins as world indoor champ Kilty gets DQ in the 60m at British Indoor championhips

Posted by:
Watch Athletics
Sunday, 28 February 2016
Defending world indoor champion Richard Kilty may not be able to defend his world indoor crown as he was disqualified in the men's 60m semi finals at the British indoor championships men's 60m dash final on Saturday night.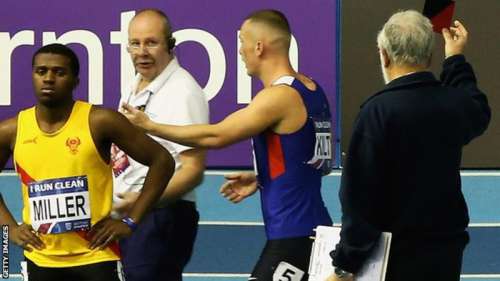 The 28-year-old Dasaolu, the European 100m champion, won the British Indoor championships 60m final crossing the line in 6.53 seconds ahead of Andrew Robertson 6.54.
By winning the 60m British title Dasaolu secured the only automatic place for Portland world indoors. Kilty's appearance in the World Indoors now depends on the British athletics team selectors as Robertson, who took second has posted a time well inside the IAAF qualifying standard.
Disappointed Kilty after his disqualification argued with officials saying that other athletes with similar issues were excused with warnings.
"I'm just a bit confused at the moment. I think it's a little bit unfair that a couple of people have got away with it and I haven't." Kilty told BBC Sports.
Asha Philip held off the British top outdoor sprinter Dina Asher-Smith to take the win in the women's 60m with a time of 7.10 just 0.02 away from British record. Asher-Smith finished in second in 7.15 while Louise Bloor came in third.
Richard Kilty DQ in Semi Finals