• Collins wins 60m in Dusseldorf

Posted by:
Watch Athletics
Wednesday, 03 February 2016
Defending world indoor champion Kim Collins of Saint Kitt and Navis won the 60m dash in a world leading time at the IAAF PSD Bank Meeting in Dusseldorf on Wednesday, Feb. 3.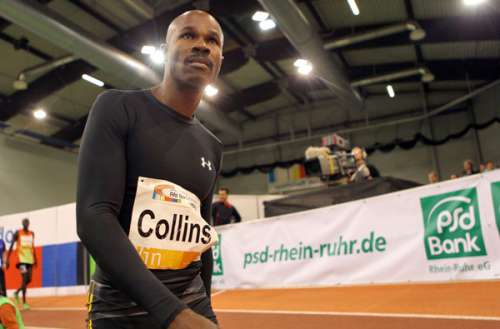 The-39-year Collins comfortably won his heat in 6.60 seconds before winning the final in a world leading time of 6.53 seconds. Germany's Christian Blum and American Mike Rodgers were disqualified in the 60m final for false staring. Collins has not been defeated indoors since 2014 season.
World championships bronze medalist Ivana Spanovic in her third attempt set a new meeting record and a new WL of 6.79m in the women's long jump.
Another world leading mark was set in the men's 60m hurdles by Orlando Ortega, who clocked 7.49 seconds for the win. Elijah Managoi of Kenya set the fastest time in the world this year over the 1500m race of 3:39:77 while his compatriot Augustine Choge set the world lead in the 3000m 7:39:23.
Poland's Ewa Swoboda won the women's 60m final with a time of 7.16 seconds while world championships bronze medalist Alina Talay of Belarus won the women's 60m hurdles clocking 8.00 seconds.