• USC Football player wants to make USA olympic team for Rio 2016 in Long Jump
University of South California cornerback Adoree' Jackson wants to try to qualify for Rio Olympics in the long jump.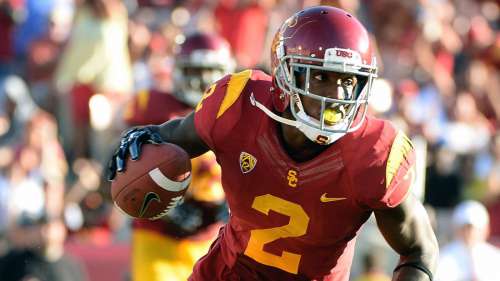 According Los Angeles Times Adoree' Jackson will give up his spring football training in order to chase his dream of becoming an Olympian.
Jackson as a Freshmen participated in track and field and won long jump at PAC 12 conference. He also took 5th place in the 2015 US outdoor national championships with a leap of 7.91m.
"I'm going to talk to my dad," Jackson told LA Times, "but for me, I'd rather go out there in track and really try to win a national title in the long jump and try to compete for the Olympics."
The 21-year-old sophomore will need to improve his personal best mark by 1cm in order to meet the minimum qualifying standard for the United States Olympic trials.
"I've always believed if you're going to be a master at something, you've got to work at it—and don't be a jack of all trades," USC head coach Clay Helton said "when you get the opportunity to go work for the Olympics, you need to go work at that." He added.