• Kenyan athletes storm its Athletics federation headquarters in protest against corruption
Several Kenyan athletes stormed the Athletics Kenya headquarters demanding the current Athletics Kenya leader Isaiah Kiplagat step down, following allegations of corruption and doping cover-ups within the country's athletics federation in Nairobi on Monday.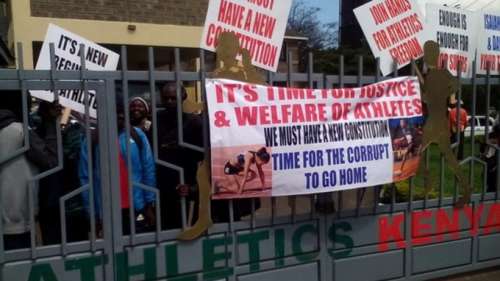 A report says that athletes entered the Athletics Kenya facility in Nairobi and locked themselves in, asking for the removal of Kiplagat who was recently accused of covering up doping in the country.
Kenyan athletics federation has recently received many criticisms for not doing enough to fight doping problems in the country after many of its country's athletes failed drug tests over th past 2 years.
"Isaiah Kiplagat must go, we are tired of his leadership, we need change," the 400 metres hurdles world champion Nicholas Bett, wrote on his Facebook wall.
The track and field governing body (IAAF) informed last week that it had been investigating doping issues in Kenya since March.
"it's also pretty clear there is a lot of performance enhancing drugs being used in Kenya". Richard Pound, the former World Anti-Doping Agency (WADA) president and the leader of the Independent Commission said last week.
Kenya, the home of world's top distance runners, has currently 15 athletes serving doping ban. There is a suspicion that leaders of Kenyan Athletics federation have helped cover many other positive doping tests.
Athletics Kenya's vice-president David Okeyo and Joseph Kinyua, its former treasurer, are being investigated by athletics' governing body and police in Kenya over claims they pocketed close to $700,000 from Nike. All these accusations Nike has strongly denied.