Great Britain's double world champion over 5000m and 10000m, Mo Farah, will defend his Great North Run title on Sunday, Sept 13 and attempt to become the second British runner to win the elite men's half marathon race for a second time.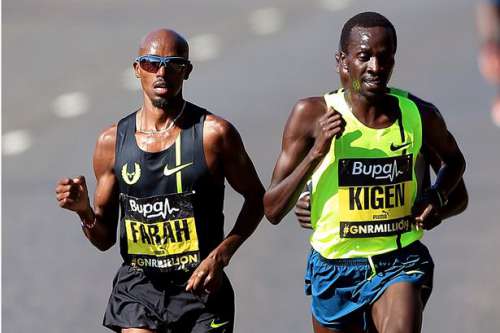 Mo Farah will return to action on Sunday after successfully defending his 5,000m and 10,000m world titles in Beijng two weeks ago.
The 32-year-ol Farah beat Kenya's Mike Kigen to win last year's race becoming the first Briton since 1985 to win great north run.
Great Britain's Mike McLeod, the 1984 Olympic 10,000m silver medallist, won the half-marathon race twice in a row in 1981 and 1982.
Last years runner-up Mike Kigen will return to this year's half marathon race. Meeting organizers have also invited Stanley Biwott of Kenya, the 2014 London Marathon second place finisher, to this years race. Other high caliber runners to line up on Sunday are Stephen Sambu the 2015 Great Manchester Run Winner, Juna Luis Barrios of Mexico, who finished 5th at 2012 Olympics 5000m race and took 10000m bronze at 2015 Pan American Games.
More meet info can be found here>>
To watch event live see page here>>
Full list of men's elite athletes here>
Full list of women's elite athletes here>>