• Geoffrey Ronoh eyes course record while Kilel and Jelagat head strong women's field at Prague GP
Geoffrey Ronoh, the defending champion in the Birell Prague Grand Prix, leads parallel lives.
He is as committed to his career as a Wildlife Ranger in Kenya, combating the menace of poachers, as he is to breaking his own course record of 27:28 in

Saturday's

20th edition of this spectacular evening 10 k race. Recovered from injury which has hindered his progress this year after an outstanding 2014 on the road, he will face tough opposition in fellow Kenyans Daniel Chebii, winner of this title three years ago, and Josphat Kiptis, champion of the Mattoni Olomouc Half Marathon in late June, another of the seven races in the RunCzech Running League. In the women's field, Viola Jelagat has already caught the eye this year with fourth in the Sportisimo Prague Half Marathon in March and the experienced Caroline Kilel, the 2011 Boston Marathon winner, should pose a threat, as could be the Ethiopian Amane Beriso, who impressed to win the Ostia Half Marathon title in Italy in March. The Birell Prague Grand Prix is an IAAF Gold Label event, the highest category of road race.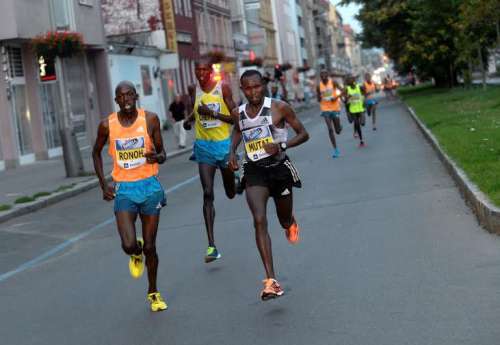 As with so many of his fellow elite Kenyan runners, 32 year-old Geoffrey Ronoh exudes the epitome of laidback cool, even with race day approaching and facing questions of whether he can reproduce the devastating form of last year. Not only did he beat the renowned road exponent Geoffrey Mutai by four seconds to win the Birell Prague Grand Prix, he handed the then world record holder in the marathon and his training partner, Wilson Kipsang, a racing lesson in winning the Mattoni Olomouc Half Marathon to announce his arrival as a formidable road racer on the international scene.

His form in 2015 has stuttered because of injury. He was troubled by a hamstring injury after finishing fifth in the Volkswagen Prague Marathon in 2:10:52 in early May, a personal best for the distance but the dominance of the previous year was absent. The persistent injury forced him to withdraw from racing but regular massage and easy running at his base in Iten have revived him. He believes he can produce his best form for Saturday: "This year I had many injuries but my recent training has been going well. I'm back to my normal shape. I want to improve my time of 27:28 and Prague will also be a form guide as I look to run a marathon before the end of the year."

Any idea that his excellence as a professional runner of three years' standing is produced by a focus on running, rest and precious little else is soon dispelled, once the conversation turns to his parallel life as a Wildlife Ranger. This is no sinecure, but a proper job bringing danger and shift work which would seem daunting even without the demands of top-class athletics. "I do sentry duty and that includes night shift. I have been taking this positively, I try to utilise my time, I try to budget with it, so when I'm on night duty, I consider it my day and sleep during the day."

It was a boyhood of weekends and holidays with friends, hunting in the bush, which first attracted him to a career as a ranger which now goes back eleven years. But the young Ronoh began to think of conservation rather than hunting: "We'd go hunting but then I began to think of guarding the animals instead of hunting them, no more killing but looking after them."

This led to enrolling in the ranger force, mandatory military training including, as Geoffrey Ronoh describes it: "Refresher courses with the British Army when they come to Kenya, I am trained to use a gun. I've come across contacts with poachers in my duties and have recovered both guns and ivories."

This career also provided an impressive stamina base – he describes tracking in the bush up to 200km in a small group, on the lookout for poachers. It's little wonder he possessed such a formidable engine when he entered the professional running world. As for a future when his running is no longer at the elite level, Geoffrey Ronoh is in no doubt where this lies: "It was an ambition since my schooldays to be a Wildlife Ranger. Some lived in my village and I liked the way they behaved to us. I liked everything about their way of life, what they did for animals."

Further information about the Birell Prague Grand Prix can be found online: www.runczech.com
Image Source: Birell Prague Grand Prix
By Andy Edwards