• Wayde van Niekerk and Julius Yego Headline World Championships Day 5

Posted by:
Watch Athletics
Wednesday, 26 August 2015
South African Wayde van Niekerk and Kenya's Julius Yego were the top stars during the day 5 of the 15th world athletics championships in Beijing on Wednesday, Aug 26.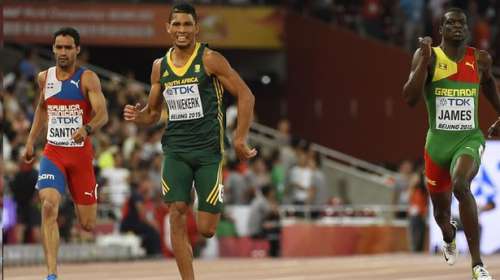 Wayde van Niekerk of South Africa produced so far the best performance of these World Championships by winning the men's 400m in a sensational time of 43.48.
Van Niekerk set a new African record and and became the 4th fastest quarter miler in history behind Michael Johnson, Butch Reynolds and Jeremy Wariner. Impressive performances in this final also produced LaShawn Merritt who ran a PB of 43.65 to take silver with Olympic champion Kirani James tooking bronze in 43.78.The fourth place finisher, Luguelin Santos ran a Dominican record of 44.11.
Kenya's Julius Yego became the first Kenyan athlete to win gold in any the field event with his massive throw of 92.72m. Yego's became the third-longest javelin thrower ever with the current javelin type and produced the world's best throw in 14 years.
Czech Republic's Zuzana Hejnova successfully defended her 400m hurdles world title from two years ago. Hejnova in the final with pushed away from the rest of the field to cross the line first in a new world leading 53.50.
Cuban pole vaulter Yarisley Silva added to her world indoor title the world championships outdoor gold medal. Silva clearing 4.90m beat former world champion Fabiana Murer of Brazil, who managed to set a new South American record of 4.85m. Nikoleta Kyriakopoulou of Greece took bronze with a new PB of 4.80m.
The women's 3000m steeple became one of the most competitive events of these championships as the podium was decided in a sprint finish. After all Kenya's Hyvin Jepkemoi prevailed with a time of 9:19.11. Tunisia's Habiba Ghribi (9:19.24) and Germany's Gesa Felicitas Krause (9:19.25) took silver and bronze, while Ethiopia's Sofia Assefa was right behind the winners with a time of 9:20.01.