Maykel Demetrio
Massó of Cuba and

Darcy

Roper of Australia impressed with massive jumps over 8m in the long jump

final at

Cali world youth championships final on Thursday, July 16.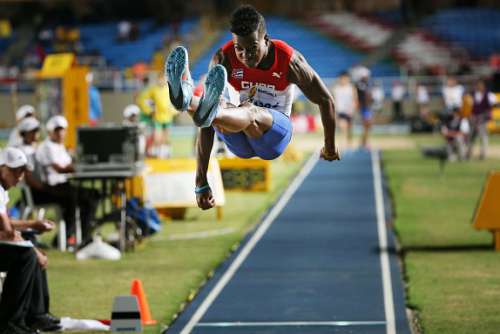 After round two Roper had the lead with a jump of 7.70m, while Cuban managed to jump 7.61m.
In the following round Massó took the lead with a leap of 7.79m, while Roper responded with 7.75m jump.

In the four attempt Massó unleashed a massive jump of 8.05m setting a new championships record. That mark was also enough to win gold medal for Cuba. Watch Video>>
Meanwhile in round four Brazil's Eberson Silva had jumped 7.76m to move Australian Roper to 3rd position.
Roper recovered his silver medal position in the 5th round with a jump of 7.80m. The 17-year-old Australian Roper was not finished yet as he shocked the crowed with an impressive jump of 8.01m cementing his silver medal. Eberson had not much left in his tank as he jumped only 7.41m. The Brazilian took bronze with 7.76m performance from round four.