Jamaican Elaine Thompson and Qatari
Abdalelah Haorun

were the top stars at the 33rd Meeting Madrid, the IAAF World Challenge, on Saturday, July 11.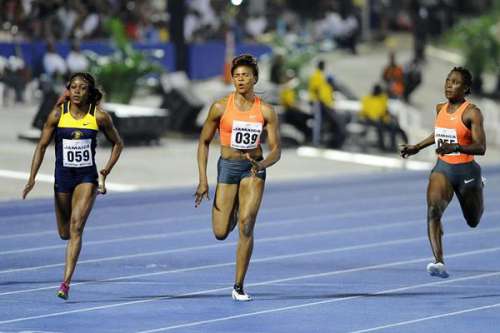 The 23-year-old Thompson won the women's 100m in a new meeting record of 10.90 ahead of American Barbra Pierre of United States who crossed the line after 11.05 seconds. Watch Video>>

Another high class performance came from 18-year-old Qatari Abdalelah Haorun, who won the men's 400m in a super fast 44.63 seconds.
Haorun finished ahead of USA's David Verburg 44.72 and Saudi Arabia's Yousef Ahmed Masrahi 44.79, who finished second and third respectively. Watch Video>>

Michael Rodgers won the men's 100m in a new season's best time of 9.88 seconds beating Jamaican Andrew Fisher, who clocked 9.94. Fisher became the 14th Jamaican to break 10 seconds. Watch Video>>
Amel Tuka of Bosnia and Herzegovina took a surprise win in the men's 800m. Tuka crossed the line first in a new national record and European lead of 1:43.84 ahead of Burundi Antonie Gakeme, who posted 1:44.09. Watch Video>>
Women's 800m race was won by Canada's Melissa Bishop 2:00.13, who narrowly defeated world indoor champion USa's Chanelle Pryce 2:00.26.
American shot putters claimed the podium with Joe Kovacs winning the event with toss of 21.22m. Christian Cantwell took second with a throw of 20.52m while Cory Martin threw 20.43m for third.
See full meeting results here>>