New Balance High School nationals - 8th grader Tyrese Cooper of Miami Gardens Xpress high school broke Kirani James world age record in the 400m on Sunday afternoon.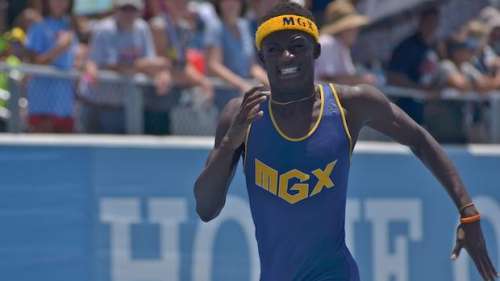 The 14-year-old Tyrese Cooper, who was running in a fastest section heat 3 on lane 7, finished in 3rd place with a mind-blowing time of 46.44 seconds and setting a new world age record that previously belonged to Olympic champion Grenada's Kirani James.
The race was won by Josephus Lyles ,who ran a very fast 45.99 seconds with Will Allen in second with a time of 46.38 seconds.
Cooper's previous personal best in the 400m was 47.67 seconds set on March 21 in Coral Gabes.
Heat 3 Results
  1 Josephus Lyles               TC Williams Tc-Va        45.99   	
  2 Will Allen                   Paul Laurence Dunbar     46.38   	
  3 Tyrese Cooper                Miami Gardens Xpress     46.44   	
  4 Izaiah Brown                 Amsterdam Tc-Ny          46.60   	
  5 Brandon Cachon               Quarter Mile Xpress-F    46.76  	
  6 Nathanaiel Huggins           Opelika Tc-Al            46.80   		
  7 Rasheed Tatham               Una-Fl-Pembroke_pi-Ta    48.27  
Casco's Kate Hall broke the national high school record and USA's junior U20 record in the long jump. Hall won the event with a jump of 6. 22 feet, 5 inches/6.83m on her final attempt. Watch video here>>