• Farah missed 2 Doping tests before London Olympics a source says
Double Olympic and world champion over 5000m and 10000m Mo Farah has missed two drug tests before becoming a Olympic champion a source says.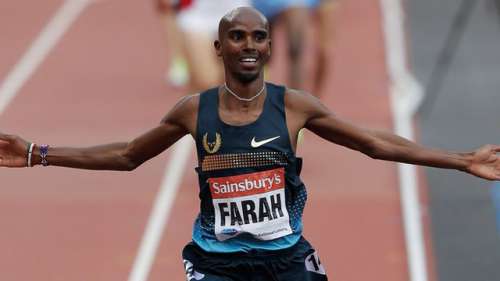 Farah missed first doping test in early 2010 just few months before he joined Nike Oregon project and coach Alberto Salazar training group.
Daily mail says that the Briton missed his second doping test in February in 2011 saying that he missed to hear a doorbell while in his house.
"The world Anti-doping regulations state that selected athletes must give details of where they will be for one hour every day."
World's one of the best distance running coach, Alberto Salazar, has been accused for doping up Olympic 10000m silver medalist Galen Rupp since 2002. Alberto Salazar and Galen Rupp have declined all the allegations.
Mo Farah joined Alberto Salazar training group at the beginning of 2011. Since then Mo Farah has become an icon of distance running by winning two Olympic and 3 world championships gold medals.
The British distance runner was scheduled to compete in 1500m at Birmingham diamond league meet on 7 June, but he withdrew because he felt "physically and emotionally drained".
Since the allegations against Salazar broke out, several former Nike Oregon Project athletes and stuff members have spoken out accusing Salazar for braking WADA doping rules.