• Spotakova Victorious in Prague
» Monday, 08 June 2015

Article source: Athletics
Czech republic's Olympic javelin champion, Barbara Spotakova, took her first victory this year at the 2015 Josef Odlozil memorialon on Monday, June 8 in Prague.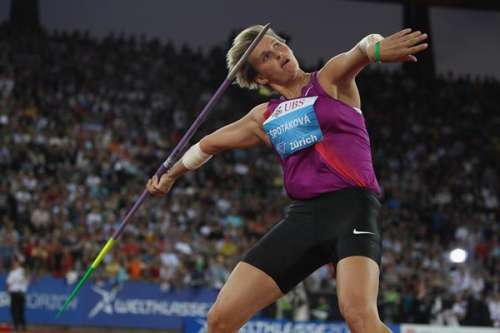 Spotakova, who took last season off to have her first baby, in her second meeting of the year set a season's best mark of 63.45m. Behind Spotakova finished China's Lu Huihui with throw of 62.87 while Germany's Lionda Stahl was third with 61.13m.
South African sprinters Hericho Bruintjies and Anaso Jobodwana went 1-2 in the men's 100m dash. Bruintjies set a meeting record of 10.06, while Jobodwana set a season's best time of 10.13 seconds.
There were two more South African wins in the meet; the women's 100m hurdles and 400m hurdles. Antonio Alkana snatched the win in 100m hurdles in 13.42 seconds, while Wenda Lel crossed the line first over 400m hurdles in 55.20 seconds.
Bulgaria's Gabriela Petrova set a new personal of 14.57m to win women's triple jump. Petrova's winning mark is this the 3rd farthest this year in the world.
European champion Pavel Maslak won the 400m race with a modest time of 46.01 seconds. Russia's Denis Kudryatsev won the men's 400m hurdles in 49.18 ahead of South Africa's LJ VanZyl who crossed the line after 49.50 seconds.
SEE FULL MEETING RESULTS HERE>>
Josef Odlozil Memorial
Josef Odlozil Memorial