• Bolt Wins 200m in Cold and Rainy Ostrava
» Tuesday, 26 May 2015

Article source: Athletics
World's fastest man, Usain Bolt, competing under bad weather conditions managed to win the 200m in 20.13 at Ostrava Golden Spikeon on Tuesday, May 26.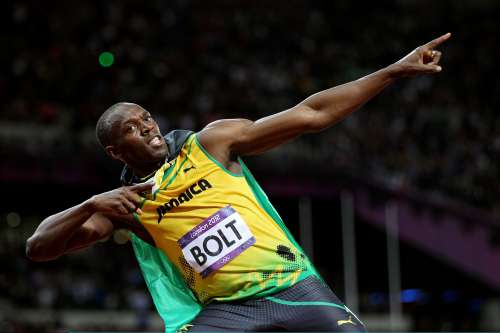 Bolt defeated Great Britain's Isaah Young, who managed to challenege the 6-time Olympic champion for the first 120m of the race, before Bolt powered home to his 7th victory in Ostrava.
A surprise win in the men's Javelin took Kenya's Julius Yego, who set a new national record and a world lead of 86.88m beating Germany's Thomas Rohler, who in his third attempt threw 85.36m SB.
In the women's 100m hurdles USA's Sharika Nelvis set a new meet record of 12.55 seconds running into a 1.7m/s headwind. Second place took Bulgaria's Alina Talay in 12.78, while Tiffany Porter of Great Britain was third in 12.90 seconds.
Poland's Marcin Lewandowski with a late kick in the last 50m managed to defeat world 1500m world champion Asbel Kiprop (KEN) in the 1000m race. Lewandowski's winning time of 2:17.25 is new world lead, while Kiprop set season's best of 2;17.38.
Former world record Asafa Powell won the 100m in 10.04 seconds. USA's Isiah Young, who also ran the 200m later in the day, was second in a season's best time of 10.13 seconds. World indoor champion in 60m Richard Kilty was thir in 10.31 seconds.
Bogdan Bondarenko suffering from bad weather conditions took a relatively easy win in the high jump by clearing 2.24m in his first try of the competition.
Israel's Marharyta Dorozhon surprised everyone in the women's javelin. Dorozhon won the event in a new national record of 63.85m.
In the men's 600m world 800m record holder David Rudisha pulled up with a hamstring injury after running only 120m of the race. Poland's Adam KSZCZOT edging Mark English (IRE) won the race in a new meet record time of 1:16.02. "Very unfortunate that i pulled my muscle just after 100m. But its not a very serious injury, thank you all for your support. @ZlataTretra'' later Rudisha posted on Twitter.
Defending world champion Zuzana Hejnova took the victory in 400m hurdles beating compatriot Denisa Rosalova and world leader Wenda Nel of South Africa, Hejnova posted a season's best time of 55.13, while Rosolova and Nel crossed the line after 55.45 and 55.47 respectively.
Charonda Williams of the United States won the 200m in 23.11 seconds. In the 1500m race Ukraine's Anna Mischenko clocked 4:07.09 to win her third international race in 2 weeks.