The 2015 Grand Blue mile winners are Matthew Centrowitz and Heather Kampf.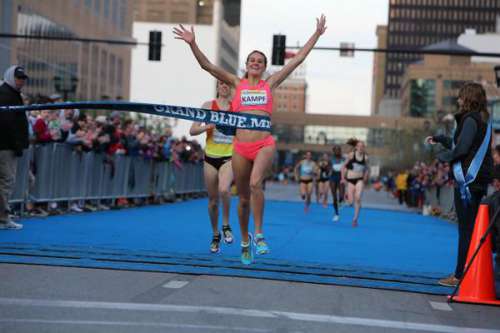 Centrowitz, the 2013 world championships silver medalist, clocked 4:03.97 to defeat London Olympics silver medalist Leo Manzano, who finished after 4:04.21. Gareth heat took third in .4:04.79. The 40 year old running legend Bernard Lagat , who has won 13 Olympic and world championships medals, finished in 5th place after 4:05.07.
Heather Kampf managed to win her second Grand Blue Mile title in a row. Kampf crossed the line in 4:35.75, while Nicole Sifuentes posted 4.36.4 and Heather Wilson 4:40.03.
At this years event approximately 5,000 runners took part. A total of $30,000 in prize money was awarded among the top finishers, with each men's and women's champion receiving $5,000.
Men's Invitational Mile
===== ===== ==================== ======= ==========
    1     3 Matthew Centrowitz      2:05    4:03.97
    2    10 Leo Manzano             2:05    4:04.21
    3     4 Garrett Heath           2:04    4:04.79
    4    12 Riley Masters           2:06    4:04.84
    5     7 Bernard Lagat           2:04    4:05.07
    6    13 Jordan McNamara         2:06    4:06.02
    7     8 Will Leer               2:05    4:06.06
    8    14 Duncan Phillips         2:05    4:06.15
    9     5 Matt Hillenbrand        2:05    4:06.96
   10     1 Aj Acosta               2:05    4:08.26
   11     9 Frezer Legesse          2:04    4:09.60
   12    16 Jon Thomas              2:06    4:17.64


Women's Invitational Results
---------------------------------------------------------
Place No.   Name                  800    Time
===== ===== ==================== ======= ==========
    1    23 Heather Kampf           2:19    4:35.75
    2    26 Nicole Sifuentes        2:20    4:36.42
    3    27 Heather Wilson          2:20    4:40.03
    4    30 Violah Lagat            2:20    4:41.60
    5    25 Dana Mecke              2:20    4:42.65
    6  3718 Stephanie Jenks         2:20    4:45.37
    7    24 Kirsty Legg             2:19    4:48.06
    8    32 Melissa Selarno         2:20    4:48.26