Mt Sac Relays 2015 - USA's Jenna Prandini equaled the 100m world lead of 10.92 seconds with a wind-legal on Saturday at Mt. Sac Relays.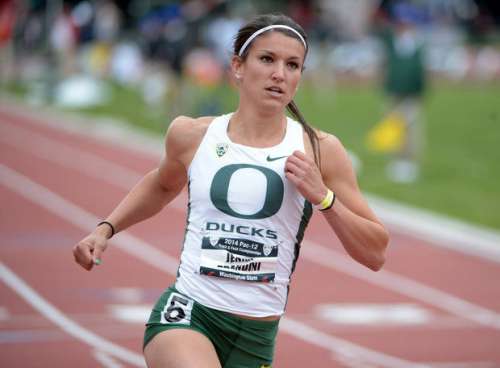 In the same heat Ana Claudia Silva of Brazil broke her own South American record with a time of 11.01. Results
About hour and a half later Prandini stepped back on the track to win the 200m final in a new PB and world leading time of 22.42 seconds. Results
Another impressie mark at Mt Sac Relays was achieved in the men's long jump where Jeff Henderson, who jumped 27-10.75 / 8.50m (legal, +1.8). It is the longest jump since Dwight Phillips in 2009. Results
Christabel Nettey of Canada impressed in the women's long jump leaping to a world lead of 6.98m. Results
The winner in the women's 100m hurdles Dior Hall clocked all time #4 world junior 12.89 seconds. Results
In the women's 800m world championships bronze medalist Brenda Martinez took a convincing win over the two lap race in 2:00.83. Results
Men's 110m winner Aleec Harris repeated his own world lead of 13.23 seconds. Results

Michael Johnson Classic, Waco Texas:
Trayvon Bromell repeated his 100m world leading mark of 10.02 by winning the 100m dash.
In the women's 100m hurdles Tiffani McReynolds posted 12.93 secondnds for the win.
In the men's 400m hurdles former world champion Bershawn Jackson clocked seasons #2 fasest time of 48.61 seconds.
Full Michael Johnson Classic Results
Vernon Norwood the NCAA Indoor champion with (45.31) clocked massive PB of 44.44 at LSU Alumni Gold. Results