Press Release: It is still another six months till the fourth edition of the Wall Race is carried out, but the Berliner 100 miles race is already casting shadows. More than half of the starting positions (more than 300) are already taken! Among the endurance athletes, who have registered via www.mauerweglauf.de, is found the multiple Paralympic champion in biathlon and Commissioner for the Disabled of the German Government: Verena Bentle.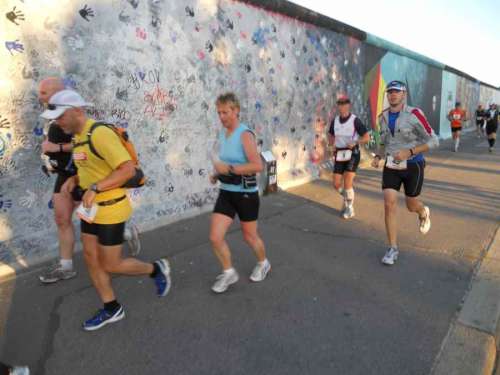 Since its debut in 2011 the Wall Race is carried out around Western Berlin. The runners follow predominately the former border strip. Running course will be the pathway formerly patrolled by soldiers of the border troops of the GDR.

The Wall Race intends to commemorate the numerous victims of the Berlin Wall who have died when attempting to cross the border and escape. The Berlin Wall Race is each year dedicated to another Berlin wall victim - representative for the at least 138 people, who lost their lives at the border between 1961 and 1989. And this year the medal of the Wall Race, which is handed to every finisher at the award ceremony, shows the image of Marienetta Jirkowsky.

Marienetta (also called "Mickey") was fatally shot at by border control soldiers during an attempted escape between Hohen Neuendorf and Berlin-Frohnau on 22 November 1980. She succumbed her severe injuries in the hospital shortly after. Marienetta became 18 years old. In contrast her fiancé and a common friend overcame the death strip unharmed.

The race is thus annually carried out on the weekend following the anniversary of the wall erection (13 August) – this year on 15/16 August. Patron is the former GDR civil rights activist Rainer Eppelmann.

Start is on 15 August at 6 am at the Friedrich-Ludwig-Jahn- Sportpark in the district of Prenzlauer Berg where the finish will be as well after 160,9km. Along the track 27 volunteer teams support the participants at especially installed aid stations. The time limit is 30 hours. And whoever does no dare to take the challenge of Berlin's longest race single-handed, is invited to master the adventure in a relay team with up to 28 members. Registration closes on 15 June.

A new and phenomenal course record was set last year: The British Mark Perkins enhanced the old record by almost 3 hours and managed to finish in an incredible time of 13:06 hours.

More information online at www.100meilen.de/en/ or from Alexander von Uleniecki (Press officer) by phone: +49 151 - 587 46 267.