The 38-year-old Kim Collins of Saint Kitt and Navis set an other personal best and world leading mark in the 60m dash at the 11th edition of the European Athletics indoor meet Pedro's cup.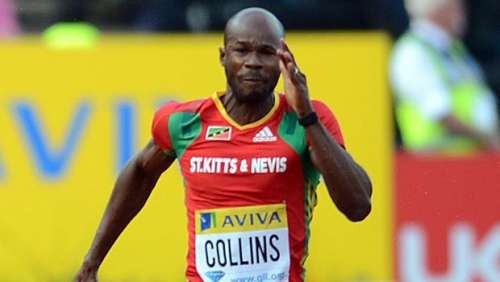 The former world 100m champion, Collins, won the 60m final with an impressive time of 6.47 seconds to smash his own National record by 0.01 seconds. USA's Mike Rodgers 6.52 took second, while world indoor champion Richard Kilty of Great Britain took third with a time of 6.54 seconds. Kim Collins have been undefeated so far this season.
Cuba's Orlando Ortega set also a magnificent PB and World leading mark in the men's 60m hurdles.
Ortega in the preliminary rounds clocked a very fast 7.52 seconds. In the same heat world 110m record holder Aries Merritt ran a 7.65 seconds, while world 60m record holder Dyaron Robles won the heat 1 in 7.67.
About an hour later in the final Ortega left no hopes for his competitors as he powered to victory in 7.45 seconds. Merritt took second 7.45 and Robles third 7.64 seconds.
Another world leading mark was set in the men's shot put as American Ryan Whiting tossed the 7.25kg heavy shot 21.80m.
Ukraine's Olesya Pohv won the women's 60m dash final in 7.22 seconds while compatriot Hanna Plotitsyna took victory in the 60m hurdles 8.01 seconds. In the heats Plotitsyna clocked a PB of 7.99 seconds.
World indoor champion Kamila Licwinko of Poland won the high jump contest with a mark of 1.98m.