• Barshim Soars 2.40m in Banska Bystrica
Qatar's Mutaz Essa Barshim opened his season with an impressive win at Banskobystrica Latka high jump meet in Banska Bystrica, Slovakia on Wednesday, February 4.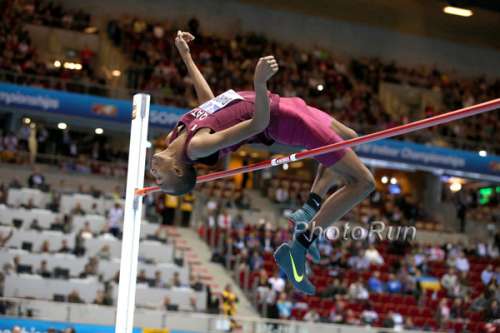 The 22 year old Qatari cleared an impressive 2.40m to set Asian indoor record. Barshim defeated Ukraine's Andriy Protsenko 2.33m (SB) and Olympic champion Ivan Ukhov (2.31m) of Russia who who finished second and third respectively.
Last year in Buxelles, Barshim set his PB and Asian outdoor record of 2.43m. He also won Asian games and took silver at the World indoor championships in Sopot, Poland. The high jump world record belongs to Cuba's Javier Sotomayor 2.45m back in 1993.
The women's contest was won by 21 year old Alessia Trost of Italy who cleared 1.96m. Trost defeated world high jump champion Svetlana Skolina of Russia who managed to jump 1.94m.
Croatia's Anna Simic was third with the same mark as skolina of 1.94m.
Top Results Men
1


BARSHIM Mutaz Essa
1991
Qatar
240

WL



2


PROTSENKO Andriy
1988
Ukraine
233

SB



3


UKHOV Ivan
1986
Russia
231

SB



4


DMITRIK Aleksey
1984
Russia
231




5


THOMAS Donald
1984
Bahamas
231




6


BUBENÍK Matúš
1989
Slovak republic
231

PB
Top Results Women
1


TROST Alessia
1993
Italy
196


2


SHKOLINA Svetlana
1986
Russia
194


2


ŠIMIĆ Ana
1990
Croatia
194

SB

4


BEITIA Ruth
1979
Spain
194


5


KUCHINA Mariya
1993
Russia
192