• Bekele Ready to Make History in Dubai
History's one of the greatest distance runners of all time, Kenenisa Bekele, will race his third marathon in his career in Dubai on Friday, January 23.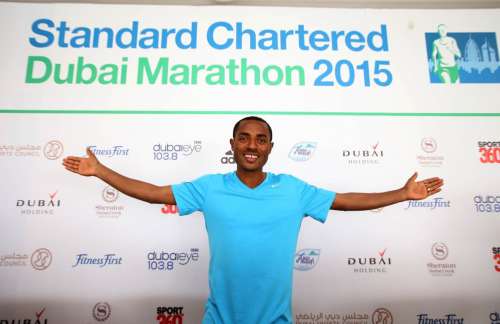 The 32 year old world record holder in 5000m and 10000m says he is ready to improve his marathon best time in tomorrows race.
"I feel confident, I am happy and I know that I am better prepared than before," said Bekele.
Last year in April Bekele won his marathon debut in Paris clocking 2:05:04. He then took a disappointing fourth place in Chicago with a time of 2:05:51.
"This is a very important race for me. I want to improve my time. I am confident to make history here, but you can never say you will win – you can't be sure, because otherwise it would not be a race," Bekele concluded.
"My training has gone well," said Bekele and his manager Jos Hermens confirms that "He is better prepared than before for his third marathon". Bekele had trained just seven weeks before he competed in Chicago and missed his goal of improving his PB. "When he was running on the track he could train for two months and then break a world record. But this approach does not work in the marathon. After Chicago Kenenisa knew that he had to change something. For ten years he had the same training rhythm. He needed something new and different impulses. This is why I brought him together with Renato Canova. And it is going well," said Hermens, explaining the switch to the Italian coach. The manager hopes for a better performance from Bekele than in Chicago. "If he runs a low 2:04, improving by around one minute that would be fine."
Super fast times are expected in Dubai marathon after organizers managed to attract 11 men with personal best marks below 2:08. Also, Dubai's flat course with only two turns and four bends is one of the fastest courses in the world.