Radcliffe to End Her Career in London

Posted by:
Watch Athletics
Wednesday, 14 January 2015
Women's marathon world record holder, Paula Radcliffe, has decided to end her career in April in London, the organizers of Virginmoney London Marathon announced on Wednesday.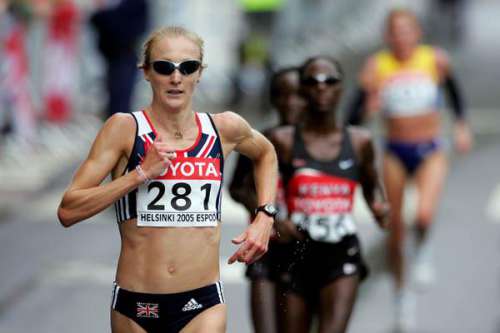 The 41 year old, set women's marathon world record of 2 hours 15 minutes and 25 seconds back in 2003 in London.
The Briton has won the the London marathon three times in her career. Her last competitive race was in 2011 at Berlin marathon, but since then the former world champion was down-sided by several injuries.
"We are absolutely thrilled that Paula has chosen London for her final marathon," said London marathon organizer Hugh Brasher.
On Wednesday the London marathon organizers also published the women's elite field which and among them are last years London marathon winner Edna Kiplagat and second place finisher Florence Kiplagat of Kenya.
The London Marathon will take place on Sunday, April 26.
Women's Elite Field - London Marathon 2015
Edna Kiplagat (Kenya) 2:19:50
Mary Keitany (Kenya) 2:18:37
Florence Kiplagat (Kenya) 2:19:44
Priscah Jeptoo (Kenya) 2:20:14
Feysa Tadesse (Ethiopia) 2:20:27
Jemima Sumgong (Kenya) 2:20:41
Tigist Tufa (Ethiopia) 2:21:52
Tatyana Arkhipova (Russia) 2:23:29
Tetyana Gamera-Shmyrko (Ukraine) 2:23:58
Christelle Daunay (France) 2:24:22
Ana Dulce Félix (Portugal) 2:25:40
Sara Moreira (Portugal) 2:26:00
Alessandra Aguilar (Spain) 2:27:00
Volha Mazuronak (Belarus) 2:27:33
Rkia El Moukim (Morocco) 2:28:12
Iwona Lewandowska (Poland) 2:28:32
Diane Nukuri (Burundi) 2:29:35
Sonia Samuels (Great Britain & NI) 2:30:56
Emma Stepto (Great Britain & NI) 2:32:40
Rebecca Robinson (Great Britain & NI) 2:37:14