World's fastest man, Usain Bolt, thinks that he can improve his 100m and 200m world records and he can be the first man on planet to run the 200m race under 19 seconds.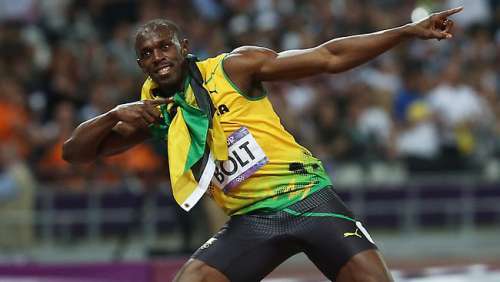 "World records are always there to be broken. I am sure the times over 100 and 200 metres can still be improved," Bolt told General-Anzeiger and Koelnische Rundschau newspapers on Wednesday.
Bolt believes that if he could go under 19 second mark in the 200m, it would be almost impossible for new generation sprinters to beat that time.
Usain Bolt also said that he is not planning to try long jump since there are higher risks of getting injured.
All Time Top 10 100m Sprinters
| | | | | | | | |
| --- | --- | --- | --- | --- | --- | --- | --- |
| 1 | 9.58 | WR | 0.9 | Usain Bolt | JAM | Berlin | 16 Aug 2009 |
| 2 | 9.69 | AR | 2.0 | Tyson Gay | USA | Shanghai | 20 Sep 2009 |
| 3 | 9.69 | | -0.1 | Yohan Blake | JAM | Lausanne | 23 Aug 2012 |
| 4 | 9.72 | | 0.2 | Asafa Powell | JAM | Lausanne | 2 Sep 2008 |
| 5 | 9.77 | | 0.6 | Justin Gatlin | USA | Bruxelles | 5 Sep 2014 |
| 6 | 9.78 | | 0.9 | Nesta Carter | JAM | Rieti | 29 Aug 2010 |
| 7 | 9.79 | | 0.1 | Maurice Greene | USA | Athína | 16 Jun 1999 |
| 8 | 9.80 | | 1.3 | Steve Mullings | JAM | Eugene OR | 4 Jun 2011 |
| 9 | 9.82 | NR | 1.7 | Richard Thompson | TTO | Port of Spain | 21 Jun 2014 |
| 10 | 9.84 | NR | 0.7 | Donovan Bailey | CAN | Atlanta GA | 26 Jul 1996 |
All Time Top 10 200m Sprinters
| | | | | | | | |
| --- | --- | --- | --- | --- | --- | --- | --- |
| 1 | 19.19 | WR | -0.3 | Usain Bolt | JAM | Berlin | 20 Aug 2009 |
| 2 | 19.26 | | 0.7 | Yohan Blake | JAM | Bruxelles | 16 Sep 2011 |
| 3 | 19.32 | AR | 0.4 | Michael Johnson | USA | Atlanta GA | 1 Aug 1996 |
| 4 | 19.53 | | 0.7 | Walter Dix | USA | Bruxelles | 16 Sep 2011 |
| 5 | 19.58 | | 1.3 | Tyson Gay | USA | New York NY | 30 May 2009 |
| 6 | 19.63 | | 0.4 | Xavier Carter | USA | Lausanne | 11 Jul 2006 |
| 7 | 19.65 | | 0.0 | Wallace Spearmon | USA | Daegu | 28 Sep 2006 |
| 8 | 19.68 | AR | 0.4 | Frank Fredericks | NAM | Atlanta GA | 1 Aug 1996 |
| 9 | 19.68 | | -0.5 | Justin Gatlin | USA | Monaco | 18 Jul 2014 |
| 10 | 19.72A | AR | 1.8 | Pietro Mennea | ITA | Ciudad de México | 12 Sep 1979 |
-->