The 2014 Buenos Aires marathon winner Mariano Mastromarino was mistaken for an imposter.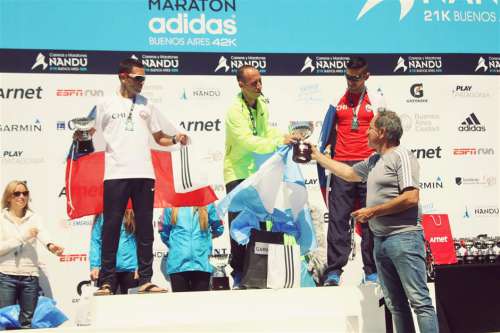 In Sunday's (October 12) race, Argentinian marathoner Mariano Mastromarino passed the leaders of Kenya about 5kmto go when the race officials ordered
Mastromarino to get out of the race.
"They thought I was an intruder. 'Get out of the race, get out. Don't stay there, this is a race'," Mastromarino told reporters after the race.
Moments later the race officials realized their mistake and the Argentinian kept going to win the race in 2:15.28.
The podium at the Buenos Aires marathon concluded Chilean runners Leslie Encina and Chirstopher Guajaro.
The previous Argentinian winner in the Buenos Aires Marathon was Oscar Cortínez in 2004.
Lucy Karimi of Kenya won her third consecutive women's Buenos Aires Marathon title.
Men Top 3

1. Mariano Mastromarino (ARG) – 02:15:28
2. Leslie Encina (CHI) – 02:18:43
3. Christopher Guajardo (CHI) – 02:18:44
Women Top 3

1. Lucy Karimi (KEN) – 02:38:52
2. Mude Zeytuna (ETIOPIA) – 02:39:17
3. Rosa Godoy (ARG) – 02:44:03
-->