Iraqi Wins 800m Gold After Top 3 Finishers Receive DQ's

Posted by:
Races News Service
Thursday, 02 October 2014
Iraq's Adnan Almntfage who finished in fourth place at the men's 800m final was promoted to the gold medal after the top three finishers were disqualified after the race at the Asian Games on Wednesday night.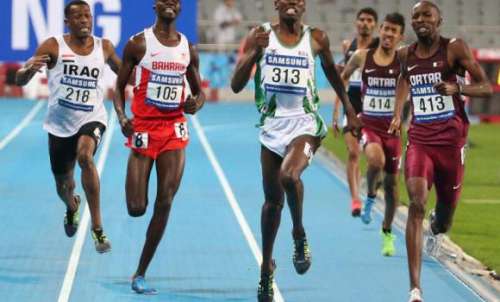 Saudi Arabia's Mohammed Abdulaziz in a battle for the win with Abdulrahman Musaeb Bala of Qata cross the line first, while Bahrain's Kipchirchir Rotich finished in third.
After the race was over Almntfage was moved up to the gold medal position after Abdulaziz received DQ for obstruction and Qatar's Bala and Bahrain's Rotich were disqualified for stepping out of the their lanes in the first curve.
"I am truly thankful for the medal I won today," said Almntfage.
"I would like to say that the Bahraini, Qatari and Saudi opponents were very worthy opponents - however they made mistakes at the 200m mark.
"And these mistakes were against the rule of the competition, I hope these mistakes won't happen again in such a competition."
-->