Qinggang Sets Massive Asian Javelin Record 89.15m

Posted by:
Watch Athletics
Thursday, 02 October 2014
Two Asian records fell on the penultimate day of the track and field competition at the Asian Games in the city of Incehon in South Korea on Thursday night.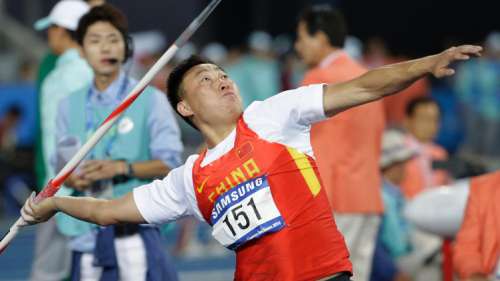 Chinese javelin thrower Zhao Qinggang highlighted today's athletics program in Incheon's Olympic stadium as he took the gold for his country with a massive throw of 89.15 meters.
Qinggang broke the previous Asian record who stood for 25 years. Also Qinggang's mark is second best in the world this year behind Egypt's Ihab Abdelrahman's world leading mark of 89.21m.
Also impressive performances showed second and third place finishers Japan's Ryohei Arai and Uzbekistan's Ivan Zaytsev who manged 84.42m and 83.68m respectively. Both athletes also surpassed the old Asian record mark.
Another Asian record fell tonight in the men's 4x100m relay as Chinese quartet took the gold with a time of 37.99 seconds leaving Japan in second (38.49) and Hong Kong in third (38.98).
Men's Javelin Final Results
Rank
Bib
Name
NOC
Date of Birth
1
2
3
4
5
6
Result
Remark
1
151
ZHAO Qinggang

CHN

China

24 JUL 1985
75.14
81.96
85.29
x
86.50
89.15
89.15
AR, GR
2
248
ARAI Ryohei

JPN

Japan

23 JUN 1991
80.74
74.98
80.13
84.42
78.65
79.81
84.42
3
505
ZAYTSEV Ivan

UZB

Uzbekistan

07 NOV 1988
78.49
x
74.90
78.77
83.68
76.47
83.68
SB
4
249
MURAKAMI Yukifumi

JPN

Japan

23 DEC 1979
81.66
x
x
-
77.27
x
81.66
SB
5
495
CHENG Chao Tsun

TPE

Chinese Taipei

17 OCT 1993
x
73.34
75.07
78.96
81.61
x
81.61
PB
6
152
SONG Bin

CHN

China

30 JUN 1990
75.50
72.33
x
71.90
76.49
75.68
76.49
7
504
SHOKIRJONOV Bobur

UZB

Uzbekistan

05 DEC 1990
74.82
75.41
76.34
x
x
x
76.34
8
303
PARK Jaemyoung

KOR

Korea, Republic of

15 DEC 1981
74.68
x
x
x
x
70.17
74.68



Men's 4x100m Relay Final
Rank
Bib
NOC
Lane
React.Time
Result
Remark
1

CHN

China

7
0.148
37.99
AR, GR
133
CHEN Shiwei
123
XIE Zhenye
122
SU Bingtian
121
ZHANG Peimeng
2

JPN

Japan

5
0.155
38.49
227
YAMAGATA Ryota
230
IIZUKA Shota
242
TAKAHIRA Shinji
228
TAKASE Kei
3

HKG

Hong Kong, China

8
0.184
38.98
SB
161
TANG Yik Chun
160
SO Chun Hong
162
NG Ka Fung
159
TSUI Chi Ho
4

THA

Thailand

9
0.185
39.08
SB
450
SOWAN Ruttanapon
457
PROMKAEW Aphisit
451
MEENAPRA Jirapong
458
NAMSUWAN Kritsada
5

TPE

Chinese Taipei

3
0.160
39.20
SB
477
YANG Chun Han
482
LIU Yuan Kai
483
WANG Wen Tang
478
LO Yen Yao
6

SIN

Singapore

4
0.170
39.47
SB
434
KANG Li Loong Calvin
438
YEO Foo Ee Gary
436
LEE Cheng Wei
437
MUSTAPA Muhammad Elfi
7

MAC

Macau, China

2
0.149
41.11
356
PAO Hin Fong
355
LEONG Wang Kuong
357
LAO Iong
358
IONG Kim Fai

KOR

Korea, Republic of

6
0.153
DQ R 170.7
279
YEO Hosua
278
CHO Kyuwon
277
OH Kyongsoo
276
KIM Kukyoung
-->