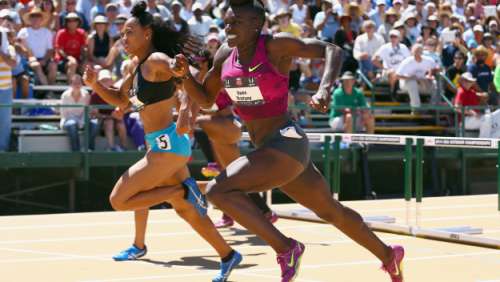 (SACRAMENTO, Calif., June 28, 2014) - - The one title that has eluded two-time Olympic Medalist Dawn Harper Nelson can be finally checked off as one of her major accomplishments. Today, she won her first national title in the 100m hurdles with an official time of 12.55 seconds at the U.S.A. Track and Field Outdoor Championships.
"I think you can count on me when it comes to the lean, Dawn's probably got it. I was very happy with my lean today.  I am extremely happy to come away with the win in this U.S.A. Nationals," said the new Nationals champion. "
With a photo finish, Harper Nelson edged Queen Harrison (12.56) for the win, with Lolo Jones coming in third (12.65).
"This U.S.A. Nationals showed me that all of my training this year is exactly where I want it to be. Running these fast times into a negative wind said that I am ready to roll.
It showed me that I am consistent and still a game time runner."
Harper Nelson in the semi-finals took heat one of two, coming in first with a time of 12.54 with no winds, to lead the final qualifiers, which let her know she was on the right path to her first national title.  
She said, "The semi-finals felt good.  I got out well and stayed clean. I knew I just needed to wait for the final."
In the past, Harper Nelson can remember that she was in the hospital watching Nationals on television after knee surgery thinking that she would indeed compete and win the elusive national title.
Reinforcing her goal for this meet, her coach, Bobby Kersee told her that she was not running to make a team, so concentrate on running her race and to have fun.  This channeled her personal pressure for the win.
"I love the drama for the fans and to still come out on top.
I think they really enjoyed it."
#             #

            

#