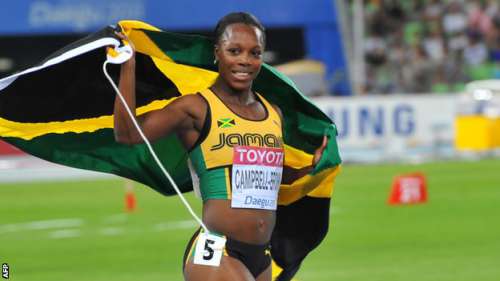 Former 100 meter World and two time Olympic 200m champion, Veronica Campbell-Brown of Jamaica, clocked a world-leading 10.86 seconds in 100m at the Star Athletics International Sprint Series meeting in Monteverde, Central Florida on Saturday.

Campbell-Brown, who came back last month after being sidelined for 10 months battling a 2 year suspension won the 100m with a new season's best mark in the world in the preliminary round.
The Jamaican superstar beat Americans Sholonda Solomon 11.16 and Jessica Young 11.18. The wind reader showed legal 2.0m/s.
Campbell Brown did not run the final which was won by Sholonda Solomon (USA) in 11.22sec -.0.1wind.

Event 1  Women 100 Meter Dash
========================================================================
    Name                     Age Team                   Prelims  Wind H#
========================================================================
Preliminaries
  1 Campbell-Brown, Veronica  32 Unattached               10.86q  2.0  1
  2 Solomon, Sholonda            Adidas                   11.16q  2.0  1
  3 young, Jessica            27 Speed Elite              11.18q  2.0  1
  4 McGrone, Candyce             Unattached               11.20q  2.9  2
  5 Whitney, Kaylin              Star Athletics           11.30q  2.0  1
  6 Owusu-Agyapong, Flings    25 Flying Angels            11.45q  2.0  1
  7 Linson, Nakia             21 Life Speed               11.50q  2.9  2
  8 Butterfield, Taahirah        bermuda                  12.00q  2.9  2
  9 Wilson, Tamani            15 Unattached               12.20q  2.9  2