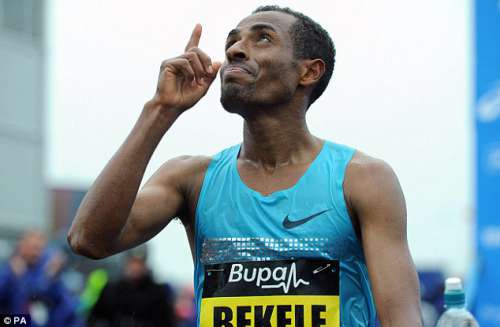 Ethiopia's running legend, Kenenisa Bekele, battled off Kenya´s Wilson Kipsang to take victory at the Great Manchester Run on Sunday, May 18.
The world record holder and Olympic champion in 5,000m and 10,000m, Bekele, clocked 28:23 over a 10km course, while  marathon world record holder Kipsang of Kenya was 5 seconds back.
 The women's race title claimed world and Olympic 10,000m champion Tirunesh Dibaba of Ethiopia, who took a confident victory clocking 31:09. Great Britain's Gemma Steel took second almost one minute behind the winner.
Men Top 10 Results
| Pos | Name | Finish Time |
| --- | --- | --- |
| 1 | KENENISA BEKELE | 00:28:23 |
| 2 | WILSON KIPSANG | 00:28:28 |
| 3 | STEPHEN MOKOKA | 00:29:11 |
| 4 | AYAD LAMDASSEM | 00:29:17 |
| 5 | ABDELLATIF MEFTAH | 00:29:18 |
| 6 | NICK MCCORMICK | 00:29:21 |
| 7 | JAVIER GUERRA | 00:29:33 |
| 8 | RICARDO RIBAS | 00:29:37 |
| 9 | MARCIN CHABOWSKI | 00:29:42 |
| 10 | DARREN DEED | 00:30:05 |
Women Top 10 Results
| Pos | Name | Finish Time |
| --- | --- | --- |
| 1 | TIRUNESH DIBABA | 00:31:09 |
| 2 | GEMMA STEEL | 00:32:10 |
| 3 | POLLINE WANJIKU | 00:32:10 |
| 4 | CHRISTELLE DAUNAY | 00:32:20 |
| 5 | ANA DULCE FELIX | 00:32:54 |
| 6 | HELEN CLITHEROE | 00:33:21 |
| 7 | SUSAN PARTRIDGE | 00:33:27 |
| 8 | ALESSANDRA AGUILAR | 00:33:31 |
| 9 | TISH JONES | 00:33:31 |
| 10 | DOMINIKA NOWAKOWSKA | 00:33:41 |