Parker Valby Triumphs with Stellar Performance at 2023 NCAA Women's Cross Country Championships

Posted by:
Watch Athletics
Saturday, 18 November 2023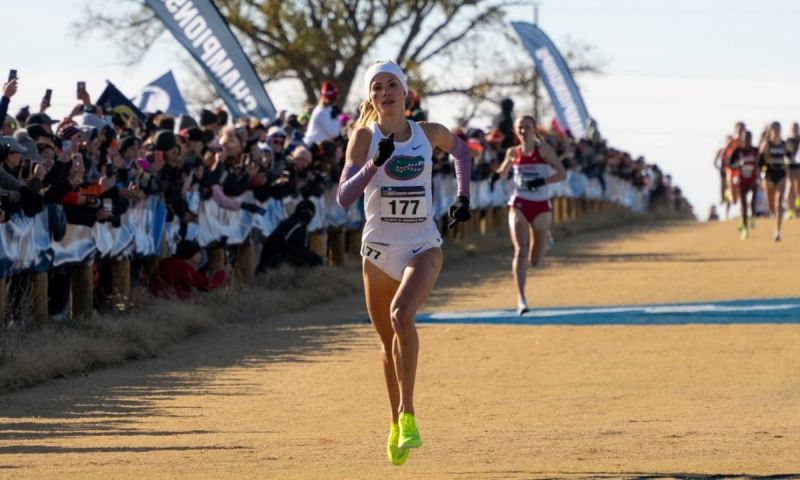 On Saturday, November 18, the scenic Panorama Farms in Charlottesville, Virginia played host to the 2023 NCAA Cross Country Championships. This event brought together the top runners from colleges and universities across the country to compete for the coveted title. Among the competitors was Parker Valby, a junior from the University of Florida.
Valby's performance at the championships was nothing short of extraordinary. In the women's 6k race, she was able to secure the title in impressive fashion. From the start, she seized control of the race and never looked back. Her time of 18:55.2 was nothing short of breathtaking as she crossed the line victorious.
Last year, Valby finished as the runner-up at the NCAA Cross Country Championships. However, this time, she was determined to take home the top honors. From the moment the gun went off, she raced to the front, quickly establishing a commanding lead. By the halfway point, she had already built a margin of 19 seconds over the chasing pack.
As the runners approached the 5km mark, Valby continued to pull away. Her time of 15:44.7 gave her a lead of 22 seconds over the chasing pack and the defending champion, Katelyn Tuohy from North Carolina State.
With the finish line in sight, Valby maintained her composure and crossed the finish line with a commanding lead (18:55.2). She had taken her first individual NCAA Cross Country title, solidifying her place among the elite runners in the sport.
Behind Valby, Doris Lemngole of Alabama finished second with a time of 19:05.7, while Olivia Markezich of Notre Dame finished third in 19:10.0. Tuohy, who had won the title last year, struggled to maintain her pace and eventually finished in sixth place with a time of 19:23.0.
North Carolina State Clinches DI Women's Cross Country National Championship
The North Carolina State women's cross country team achieved a remarkable feat by securing their third consecutive national championship, amassing 123 points. This victory was particularly nail-biting as they edged out Northern Arizona by a mere one point. Oklahoma State claimed the third spot with 156 points.
This triumph for NC State mirrors the achievement of Stanford University from 2005 to 2007, marking a significant moment in NCAA history. The one-point margin of victory is the narrowest since 2016, reminiscent of the tight race where Oregon narrowly defeated the University of Michigan with a score of 125-126.
-->