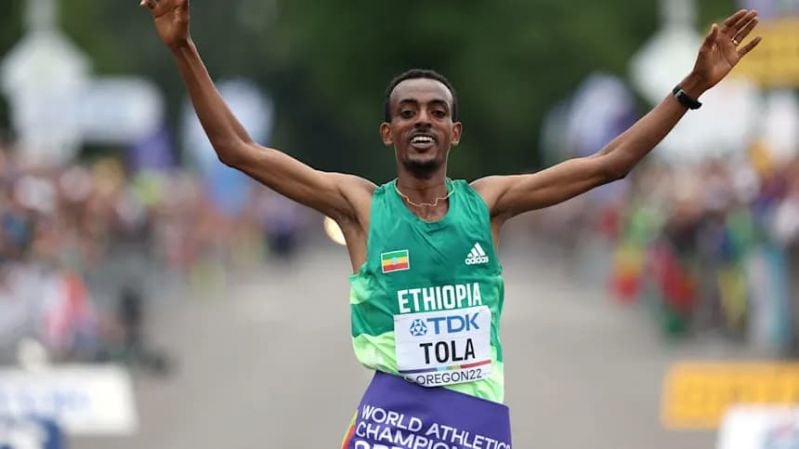 Ethiopia's Tamira Tola and Kenya's Hellen Obri won the 2023 New York City Marathon on Sunday, November 5.
Ethiopian marathon start Tamirat Tola emerged victorious in the men's race at the TCS New York Marathon, finishing with a time of 2:04:58. This impressive performance shaved eight seconds off the previous course record of 2:05:06, set by Geoffrey Mutai in 2011. Tola made a decisive move to pull ahead of fellow Ethiopian Jemal Yimer around the 30 km mark as they approached the Bronx. Once taking the lead, Tola was 19 seconds ahead by the time he entered Manhattan at the 21-mile point. In the last 9 kilometers, he quickened his stride, extending his advantage to a full two minutes by the 40 km checkpoint.
Tola secured the global championship gold in the marathon at Eugene in 2022, took home the Olympic bronze in the 10,000 meters at Rio de Janeiro in 2016, and earned the silver medal in the same event at the World Championships in London in 2017. He achieved his inaugural victory in a World Marathon Major event after previously placing fourth in the New York marathons of 2018 (with a time of 2:08:30) and 2019 (2:09:20), and securing third place in Tokyo in 2022 (2:04:14) as well as in London in 2023 (2:04:59). Tola made a strong comeback from his recent setback at the World Championships in Budapest 2023, where he was unable to finish the race.
Expressing his joy, Tamirat Tola said, "I am very happy. Winning my first World Major Marathon is a significant achievement for me, especially as I was also able to set a new course record."
Albert Korir completed the race with a time of 2:06:57, while Shura Kitata, victor of the 2020 London Marathon, claimed the third spot, contributing to an all-African top three, with a time of 2:07:11. Dutch Olympic silver medalist Abdi Nageeye was the leading European, finishing fourth with a time of 2:10:21. Close on his heels was Belgium's Koen Naert, finishing fifth in 2:10:25, followed by Maru Teferi of Israel, who holds world and European silver medals, in sixth place with a time of 2:10:28. Iliass Aouani, the Italian record holder, came in seventh at 2:10:54, while Edward Cheserek, a multiple NCAA champion, made an impressive marathon debut, finishing in 2:11:07 for eighth place. Jemal Yimer, who had earlier been in contention, finished ninth with a time of 2:11:31.
Hellen Obiri wins a thrilling final sprint in the women's race
In an exhilarating last stretch, Hellen Obiri, the two-time world champion in the 5000 meters, surged ahead in the final 400 meters to clinch the women's title at the TCS New York Marathon with a time of 2:27:23. This triumph came in just her third marathon race at this distance. Obiri overtook Letsenbet Gidey, the world record holder in the half marathon and 10,000 meters, who finished closely in 2:27:30, as well as the previous year's New York Marathon winner, Sharon Lokedi, who completed the course in 2:07:33, in what was a captivating concluding sprint.
Obiri achieved a historic double win in the Boston and New York marathons. She made her debut over the marathon distance in New York 2022 finishing sixth in 2:25:49. Last April she won the first marathon of her career in Boston in her lifetime best in 2:21:38.
The women's competition commenced at a measured pace, with a strategic group of eleven, including American contenders Molly Huddle and Kellyn Taylor, navigating the first 32 kilometers collectively. Huddle and Taylor took the early lead but later dropped back, finishing in eighth with a time of 2:29:48 and ninth in 2:32:02, respectively.
The tempo escalated in the final 8 kilometers. As the frontrunners entered Manhattan for the concluding stretch, Obiri, Gidey, and Lokedi accelerated, taking turns at the front. By the time they reached Central Park, they had distanced themselves from the former world record holder Brigid Kosgei, who ended up fourth with a time of 2:27:45.
In the last 500 meters, Obiri and Gidey left Lokedi behind in a tight contest. Obiri executed a decisive surge inside Central Park, outpacing Gidey with a robust final push, marking her as the first woman since Ingrid Kristiansen in 1989 to win the Boston and New York marathons in a single year.
Reflecting on the race, Hellen Obiri said, "I was a bit worried because the other ladies were strong, but a marathon is about patience. So I said, 'Okay, let's be patient until we get to Central Park, and then see what will happen at the end."
RESULTS NEW YORK CITY MARATHON
TOP MEN'S RESULTS
| POS | NAME | RESULT | PACE |
| --- | --- | --- | --- |
| 1 | Tamirat Tola | 2:04:58 | 04:46 min/mile |
| 2 | Albert Korir | 2:06:57 | 04:51 min/mile |
| 3 | Shura Kitata | 2:07:11 | 04:52 min/mile |
| 4 | Abdi Nageeye | 2:10:21 | 04:59 min/mile |
| 5 | Koen Naert | 2:10:25 | 04:59 min/mile |
| 6 | Maru Teferi | 2:10:28 | 04:59 min/mile |
| 7 | Iliass Aouani | 2:10:54 | 05:00 min/mile |
| 8 | Edward Cheserek | 2:11:07 | 05:01 min/mile |
| 9 | Jemal Yimer | 2:11:31 | 05:01 min/mile |
| 10 | Futsum Zienasellassie | 2:12:09 | 05:03 min/mile |
TOP WOMEN'S RESULTS
| POS | NAME | RESULT | PACE |
| --- | --- | --- | --- |
| 1 | Hellen Obiri | 2:27:23 | 05:38 min/mile |
| 2 | Letesenbet Gidey | 2:27:29 | 05:38 min/mile |
| 3 | Sharon Lokedi | 2:27:33 | 05:38 min/mile |
| 4 | Brigid Kosgei | 2:27:45 | 05:39 min/mile |
| 5 | Mary Ngugi | 2:27:53 | 05:39 min/mile |
| 6 | Viola Cheptoo | 2:28:11 | 05:40 min/mile |
| 7 | Edna Kiplagat | 2:29:40 | 05:43 min/mile |
| 8 | Kellyn Taylor | 2:29:48 | 05:43 min/mile |
| 9 | Molly Huddle | 2:32:02 | 05:48 min/mile |
| 10 | Fantu Zewude Jifar | 2:34:10 | 05:53 min/mile |
-->