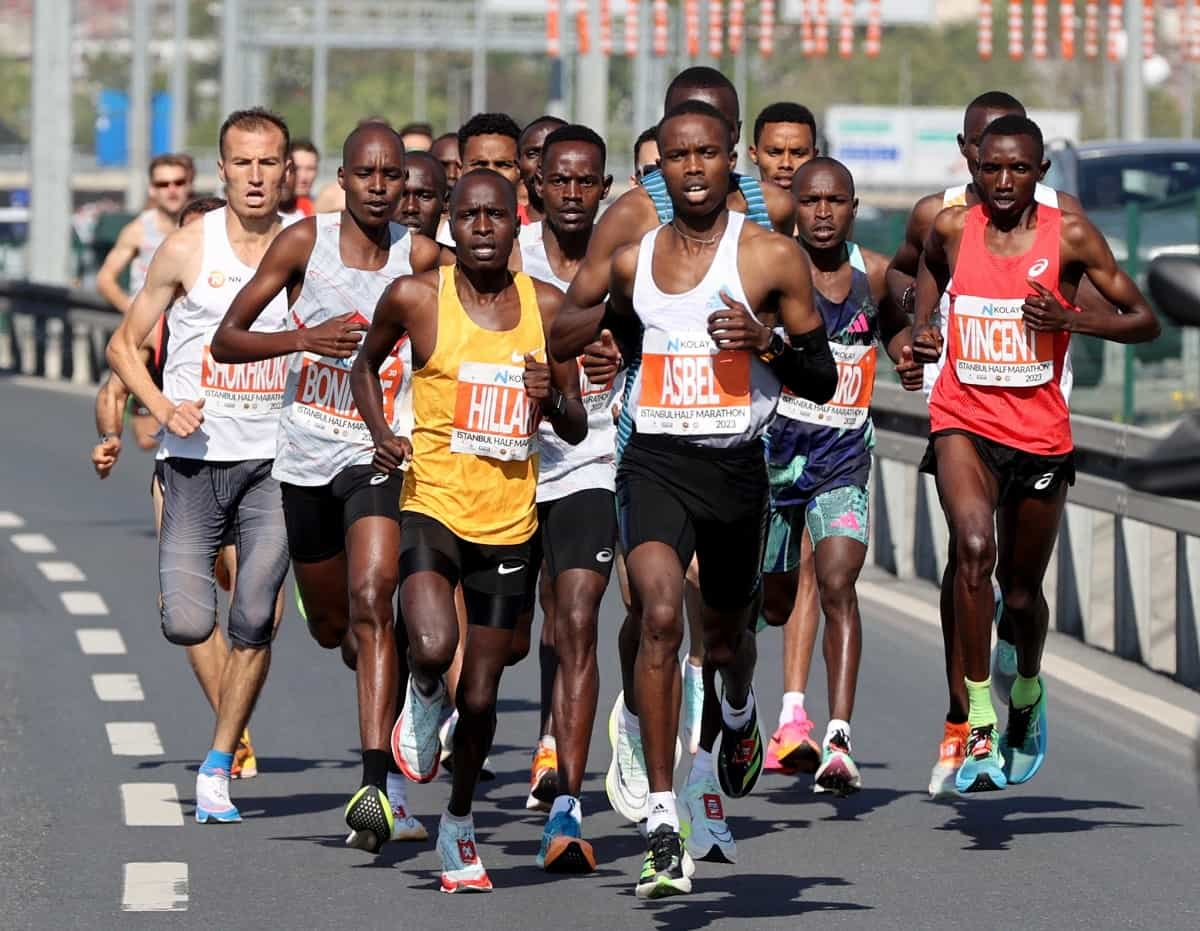 The current champion and a former winner will clash in Sunday's Türkiye Is Bankasi Istanbul Marathon when the men's elite runners target the Turkish all-comers' record of 2:09:27. Defending champion Robert Kipkemboi will be up against fellow-Kenyan Benard Sang who took Turkey's most prestigious marathon in 2020. However Abraraw Misganaw of Ethiopia is the fastest runner on the final start with a personal best of 2:06:39. Kenya's Beatrice Cheptoo heads the women's elite list with a PB of 2:22:28.
Around 4,500 athletes will run the classic distance on the unique course which starts on the Asian side of Istanbul and then finishes in Europe on Sultanahmet Square in the city's historic center. Including races at shorter distances organisers expect a total of 45,000 runners to compete in the event, which is a World Athletics Gold Label Road Race. The Türkiye Is Bankasi Istanbul Marathon starts at 9 am on Sunday and will be shown in a live stream with an English commentary available worldwide: more info here at Watch Athletics
"We are proud to have assembled a strong international field for Turkey's premier marathon event once again. Hopefully weather conditions will be fine so that there is a chance of establishing the fastest time ever run on Turkish soil. It is great to see another very big mass race with 45,000 runners. This confirms our significant position for the development of our sport in Turkey. We are of course the only marathon in the world that offers the experience of crossing from one continent to another during the race," said Race Director Renay Onur, who also pointed out that the race was held annually without any interruptions. "Even during the pandemic we managed to stage the race, which was one of only very few in the world that went ahead."
"I am ready for a good race. If the weather is suitable and the pacemakers are doing their job then I think the course record could be possible for me," said Abraraw Misganaw. Daniel Kibet of Kenya holds the record with his winning time of 2:09:44 from 2019. This mark is just 17 seconds away from the Turkish allcomers' record. Abraraw Misganaw improved his former PB of 2:09:47 by over three minutes in Dubai this February. He clocked 2:06:39 and was fifth in this competitive race. "I am in the same shape as before the Dubai Marathon," said the 35 year-old from Addis Ababa.
Robert Kipkemboi will be looking to become the first man to achieve back to back wins in Istanbul since fellow-Kenyan Vincent Kiplagat defended his title in 2011. 35 year old Kipkemboi clocked 2:10:18 a year ago. His personal best stands a 2:07:09. Earlier this year he showed very promising form when he won the Nairobi Marathon in 2:07:38. This is quite a remarkable performance in high altitude. While a total of seven runners feature personal bests of sub 2:10 on Istanbul's start list organisers had to cope with some late withdrawals. Among them are Kenyans Reuben Kipyego and Moses Koech as well as Gadise Shumie of Ethiopia.
Early this year Beatrice Cheptoo ran a fine personal best of 2:22:28 when she was third in Doha. The 30 year-old Kenyan improved by almost two minutes. "I have prepared for the race in Istanbul since June and my training went really well. So I am hoping for a good time and will try to win the race," said Beatrice Cheptoo, who lives in the village of Nandhliis near Eldoret and trains in an altitude of around 2,000 metres. "I have got my own pacemaker and only train with him," said Beatrice Cheptoo, whose husband is a maize farmer and looks after their two children if his wife is away for races.
With a personal best of 2:23:49 Sifan Melaku of Ethiopia is the second fastest on the start list. The 23 year-old ran this time three years ago in Sevilla. In her most recent race she took the Stockholm Marathon with 2:30:44 in May. In the same month this year Valentina Mateiko ran a fine marathon debut in Copenhagen. The Kenyan was second with 2:25:05. It will be interesting to see what she can do in much more competitive field in Istanbul. While four women feature personal bests of sub 2:24 another four on the start list have run below 2:27. Another Kenyan who might do well on Sunday is Linah Cheruto. She was very unfortunate when she suffered of a broken foot during her debut marathon in Copenhagen in 2023 around the 30k mark. After fully recovering Linah Cheruto now starts a second attempt in Istanbul. Turkey's national record holder Sultan Haydar withdrew from the race at short notice.
Elite runners with personal bests
MEN ELITE
Abraraw Misganaw ETH 2:06:39
Robert Kipkemboi KEN 2:07:09
Polat Kemboi Arikan TUR 2:08:14
Wilfred Kigen KEN 2:08:45
Alex Saekwo KEN 2:09:08
James Kiplagat KEN 2:09:08
John Langat KEN 2:09:46
Panuel Mkungo KEN 2:10:20
Benard Sang KEN 2:10:59
Moses Too KEN 2:11:45
Mathew Kemboi KEN 2:11:52
Hüseyin Can TUR 2:11:56
Ömer Alkanoglu TUR 2:12:15
Mestan Turhan TUR 2:12:59
Dominick Kipkirui KEN Debüt
WOMEN ELITE
Beatrice Cheptoo KEN 2:22:28
Sifan Melaku ETH 2:23:49
Aberu Mekuria Zennebe ETH 2:24:30
Workenesh Alemu ETH 2:24:42
Valentina Mateiko KEN 2:25:05
Janet Rono KEN 2:26:03
Veronicah Maina KEN 2:26:41
Zerfie Limeneh ETH 2:26:48
Gulzhanat Zhanatbek KAZ 2:33:25
Linah Cheruto KEN - - -
More information is available at: https://maraton.istanbul
-->