BYU Women and Oklahoma State Men Claim Big 12 Cross Country Championships Title

Posted by:
Watch Athletics
Saturday, 28 October 2023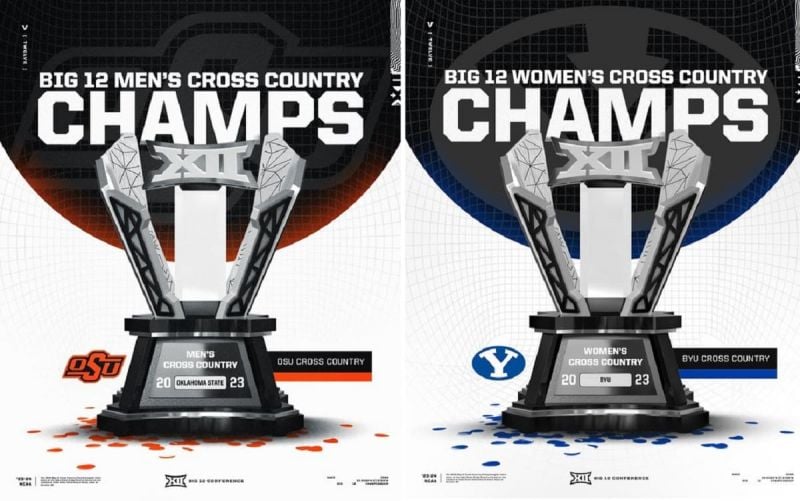 BYU women and Oklahoma State were crowned champions at the Big 12 Cross Country Championships in Ames, Iowa on Saturday, October 28.
Women's Race Report:
In a showdown between the national top-10s, No. 4 BYU surpassed No. 6 Oklahoma State with a score of 35-39. Marking their debut year in the Big 12 Conference, BYU showcased stellar performance, positioning their five runners in the top 10, and impressively, seven runners in the top seven of the race, thereby securing the top spot. No. 17 Iowa State finished third, amassing 70 points.
The individual title was snatched by Oklahoma State's senior, Taylor Roe, who clocked 19:35.4, creating a gap of nearly six seconds from her teammate, Billah Jepkirui, who secured the second position. With a consistent performance, having placed among the top three in all her four Big 12 cross country races, Roe clinched Oklahoma State's inaugural individual title for the event.
Men's Race Report:
The No. 2 Oklahoma State Cowboys stamped their authority, clinching their fourth consecutive Big 12 title with a convincing win, scoring 25 points against the 55 by the new conference entrants, No. 3 BYU. Trailing behind were No. 6 Texas with 70 points and No. 17 Iowa State securing the fourth spot with 114 points.
The standout performers for the Cowboys were freshman Brian Musau and the returning champion Alex Maier. The team managed to position its top five runners among the first nine to finish. Musau made a mark by completing the race in 22:46.6, being the first freshman to secure the Big 12 title since German Fernandez in 2008. Notably, he achieved this amidst challenging cold and windy weather.
For BYU, the top performer was Creed Thompson, finishing third. Meanwhile, Devin Hart, a transfer from Texas, claimed the fourth spot.
-->