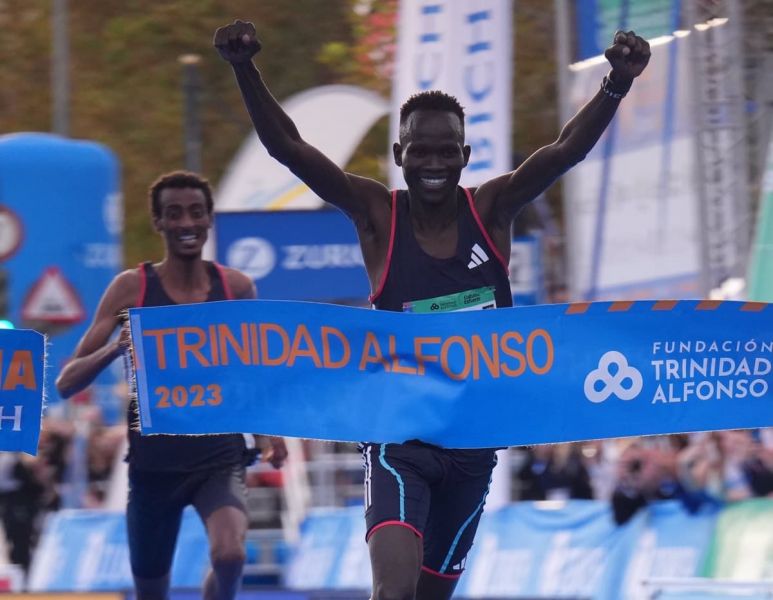 On the familiar streets of Valencia where he set the world record in 2020, Kibiwott Kandie once again dominated, finishing the 2023 Valencia Trinidad Alfonso Zurich Half Marathon in a remarkable 57:40, just nine seconds shy of the World record mark. The thrilling race saw Kandie out-sprint formidable opponents Kejelcha and Gebrhiwet, all of whom had aspirations of breaking the 57:31 world record. Notably, Kandie, Kejelcha, Gebrhiwet, and Barega all finished sub-58 minutes, creating quite the spectacle.
In the women's division, Margaret Chelimo emerged as the undisputed champion, clocking in at 1:04:46.
From the outset, Kandie, who previously set the second-best time in the 2020 Valencia race, quickly distanced himself from pace-setters. He was closely trailed by Yomif Kejelcha, Hagos Gebriwhet (both sub-59 runners), and Selemon Barega, the Olympic 10,000-meter champion. The quartet set a blistering pace, fueling anticipation of a potential world record.
By the 10th kilometer, they were a second ahead of the record pace, and by the 12th kilometer, they were six seconds under the all-time best. The group moved in unison, with barely a glance exchanged among them, conserving no energy.
However, the momentum waned a bit by the 15th kilometer, where their time of 41:01 put them seven seconds behind the record pace. At this juncture, Kandie decided to up the ante, pushing for a record time even if it meant jeopardizing his win.
As the race neared its climax, with only two kilometers left, tensions heightened. Barega began to lose ground to the relentless pace set by Kejelcha. For a moment, even Kandie seemed to falter. However, as they approached the Avenida de los Naranjos, Kandie summoned a final burst of speed, leaving his competitors behind.
In the women's elite division, while there wasn't an aggressive push for the world record, the race still delivered plenty of excitement. Kenyan athletes Margaret Chelimo, Irine Cheptai, and Janet Chepngetich were in close competition, running side by side until the 15th kilometer.
As the finish line approached, Chelimo upped her pace, leaving Chepngetich trailing behind. Cheptai managed to keep up with Chelimo for a bit longer, but in the end, Chelimo pulled ahead with a significant lead in the final kilometer. She clinched the victory with a time of 1:04:46. Cheptai crossed the finish line 7 seconds later, and Chepngetich secured third place, finishing 29 seconds behind the leader.
Carlos Mayo of Spain triumphantly broke the longstanding Spanish record with a time of 59:39, eliciting jubilant reactions from both fans and organizers as he crossed the finish line. Laura Luengo also set a new Spanish record with her time of 1:09:41.
-->