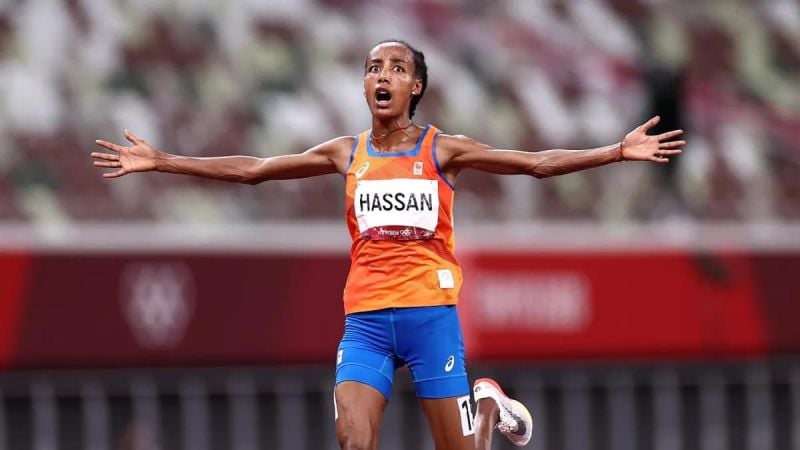 Double Olympic champion Sifan Hassan secured victory in the women's marathon, recording a breathtaking European record time of 2:13:44, the second fastest in history.
Competing alongside Hassan was Ruth Chepngetich, a two-time Chicago Marathon victor. The lead group also comprised Joyciline Jepkosgei of Kenya and Ethiopians Megertu Alemu and Ababel Yeshaneh.
A pivotal moment came when Hassan and Chepngetich accelerated with a 5 km split time of 15:23, clocking 10 km at 31:05. Their pace was notably 40 seconds faster than Tigist Assefa's world record-setting pace in Berlin just a fortnight ago.
Maintaining their blistering pace, the duo achieved a 10 km split of 30:54 from the 5 km to 15 km stretch, marked at 46:35. They sustained this world record momentum up to the 20 km checkpoint (1:02:54).
By this stage, Chepngetich surged ahead, leading Hassan by six seconds and reaching the midway point at 1:05:42 – a full 45 seconds faster than the previous world record.
Meanwhile, Alemu, Jepkosgei, and Yeshaneh completed the first half of the race at 1:07:26, remaining on pace for a 2:14:52 finish.
In a commendable comeback reminiscent of her London debut, Hassan drew level with Chepngetich at the 25 km mark, timed at 1:18:06. Later, Hassan broke free, leading by 10 seconds at 30 km and extending her lead to 30 seconds by 35 km (1:50:17). As she approached the 40 km mark, her lead doubled.
It appeared as though Hassan might challenge Brigid Kosgei's previous world and course record of 2:14:04. Although she didn't surpass Tigist Assefa's recent 2:11:53 world record, Hassan impressively completed the race in 2:13:44. This achievement shattered the course record and eclipsed Paula Radcliffe's 2003 European record of 2:15:25.
With this win, Hassan celebrated her second marathon victory in consecutive attempts.
Hassan's remarkable athletic prowess is evident across multiple disciplines. She boasts the title of second-fastest in the track mile, the 10,000 metres, and now the marathon. Just six weeks prior, she clinched silver in the 5000 metres and bronze in the 1500 metres at the Budapest World Championships.
Following Hassan, Chepngetich finished with a commendable 2:15:37. Remarkably, the top four racers each bested the 2:18 mark. Megertu Alemu secured third at 2:17:09, while Jepkosgei took fourth at 2:17:53. Rounding out the top spots were Tadu Teshome in fifth (2:20:04), previous 1500m world record holder Genzebe Dibaba in sixth (2:21:47), and US record setter Emily Sisson in seventh (2:22:09).
In her post-race remarks, Hassan noted, "The initial pace was audacious, yet I felt compelled to match it. The final stretch was grueling. To secure another victory in just my second marathon is surreal. The early speed was ambitious. Given the training and slightly cold conditions, this time is phenomenal."
-->