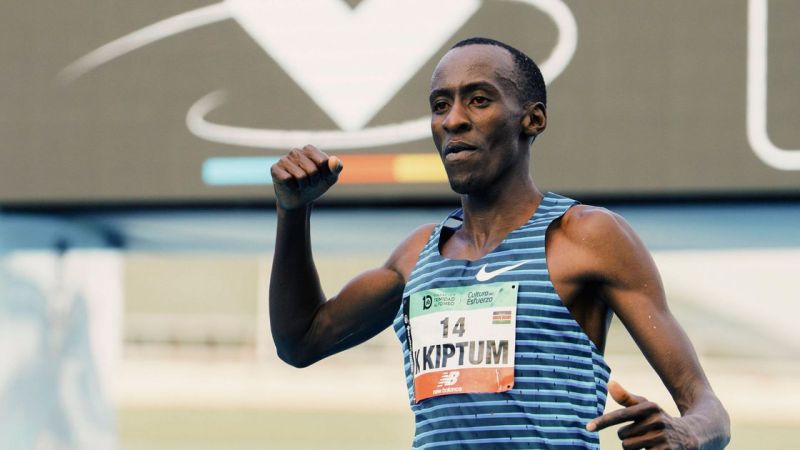 In the initial few kilometers, a lead group emerged consisting of seven runners and several pacemakers.
Fresh off his London Marathon victory, Kelvin Kiptum outdid himself, shattering Eliud Kipchoge's previous world record, clinching the Bank of America Chicago Marathon in a staggering 2:00:35. This effort eclipsed Kipchoge's Berlin record of 2:01:09 by 34 seconds, set just a year prior in 2022.
In doing so, Kiptum etched his name in the annals of history, becoming the pioneering athlete to dip below the 2:01 mark on an approved record course.
Shortly after starting, at the 5 km mark timed at 14:26, Kiptum and marathon newcomer Daniel Mateiko made a decisive move, distancing themselves from the leading pack of seven. They maintained a world-record tempo, clocking 10 km in 28:42.
However, the subsequent kilometers saw a slight dip in pace. By the halfway mark, recorded at 1:00:48, they were just off the record-setting pace.
But Kiptum's resurgence from 30 km to 35 km, clocked at an impressive 13:51, put him back on track to challenge the 2:01 mark. He soared past the 35 km marker at 1:40:22, boasting a substantial 49-second lead over Mateiko.
The young talent from Chepkorio amped up his pace even more towards the finish, completing the marathon in 2:00:35. Notably, his second half was faster by 59:47, indicating a negative split.
Kiptum's recent marathon achievements have been nothing short of phenomenal. Over the past ten months, he clinched victories in Valencia (2:01:53) and London (2:01:25). His Chicago run improves his personal best by 50 seconds, placing him with three of the six fastest marathon times ever.
Reflecting on his record-breaking performance, Kelvin Kiptum shared, "I aimed for a course record, and this victory is elating. The thought of a world record was far from my mind. But witnessing the time unfold, I contemplated pushing for sub-2:00."
Following Kiptum's historic finish, Bnson Kipruto secured second place, clocking 2:04:02 - a whole 3 minutes and 27 seconds behind the leader. Olympic bronze medalist Bashir Abdi trailed in third with a time of 2:04:32.
John Korir took fourth at 2:05:09, narrowly edging out Ethiopian Seifu Tura by 20 seconds.
American runner Conner Mantz emerged as the leading US contender, finishing sixth in 2:07:47. Not far behind, Clayton Young slashed his personal best by 3:51, finishing in 2:08:00, marking him as the second-fastest US marathoner since 2022 began.
-->